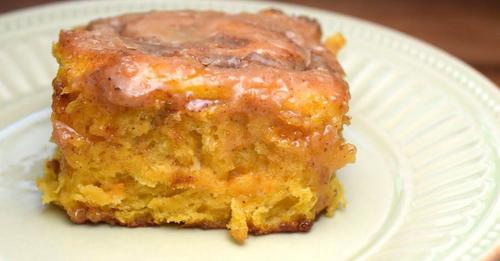 When you want something warm and comforting for breakfast, these homemade cinnamon rolls are just that. It is a few steps to get there, but it's well worth it. The sweet potato makes the dough nice and silky, and adds some fiber to your diet also!
SERVES : 12
PREP TIME : 1 Hr 30 Min
COOK TIME : 25 Min
METHOD : Bake
Ingredients For Sweet Potato Cinnamon Rolls
FOR THE DOUGH
1 mdsweet potato (not peeled)
3/4 cmilk
4 Tbspbutter
2 Tbspbrown sugar
2 1/2 cflour
1 pkgyeast
1/2 tspsalt
1 Tbspcornstarch
FOR THE FILLING
1/2 cbrown sugar
1 Tbspcinnamon
4 Tbspbutter, softened
1/4 cwalnuts (optional)
FOR THE GLAZE
1 cpowdered sugar
2 Tbsppeanut butter
1/2 tspvanilla
2 Tbspmilk
How To Make Sweet Potato Cinnamon Rolls
1-Scrub the sweet potato and remove any dark spots. Pierce it with a knife and cook in a microwave for 4 – 5 minutes. Test it wit ha fork and if it is still firm, cook it for another minute or so until the potato is tender.

Once the potato is cool, chop it into chunks. Place it in a food processor with the milk, butter, and brown sugar and pulse until smooth. Transfer this to a microwave-safe bowl.
2-In a large mixing bowl add the flour, yeast, salt, and cornstarch. Stir to combine. Heat the sweet potato mixture until warm to the touch and add to the flour bowl. Stir to combine. Next knead the dough right in the bowl for 3 to 5 minutes. Add flour as necessary to keep the dough from sticking to your hands. Spray or rub the top of the dough with vegetable oil, cover with a towel or plastic wrap and set aside to rest for about 15 minutes.
3-Combine the brown sugar, butter, and cinnamon in a separate bow
4-Once the dough is ready, cover a working area with a sheet of saran wrap. Place the dough on top of the saran wrap and sprinkle with some flour. Some people like to place another piece of saran wrap on top instead of flour, I have not mastered that technique yet, I add flour to the top :). Use a rolling pin to roll the dough out to approximately 14×9 inches.
5-Spread the filling over the rolled dough using a spatula, covering all of it except for about a half-inch of the long edge furthest away from you. Take your time spreading it out evenly, it will be a thin layer. Sprinkle with walnuts if you are using them. Starting from the long end closest to you, roll the dough into a log. Cut the roll into 12 evenly sized pieces.
6-Spray a 9-inch round or square cake pan with nonstick cooking spray. Place rolls in the prepared pan. Cover with a kitchen towel or plastic wrap and set aside to rise in a warm area until doubled in size, about one hour.
7-When the rolls have doubled in size, preheat the oven to 375°. When oven reaches temperature, bake the rolls for about 20 to 25 minutes or until the rolls are golden in color.
8-While the rolls are baking, prepare the glaze. In a medium bowl, whisk together the powdered sugar, almond or peanut butter and vanilla. Once combined add the milk one tablespoon at a time until you reach a desired, spreadable consistency.
9-When the rolls are ready, remove them from the oven and allow them to cool for about 10 minutes before adding the glaze. Serve warm.