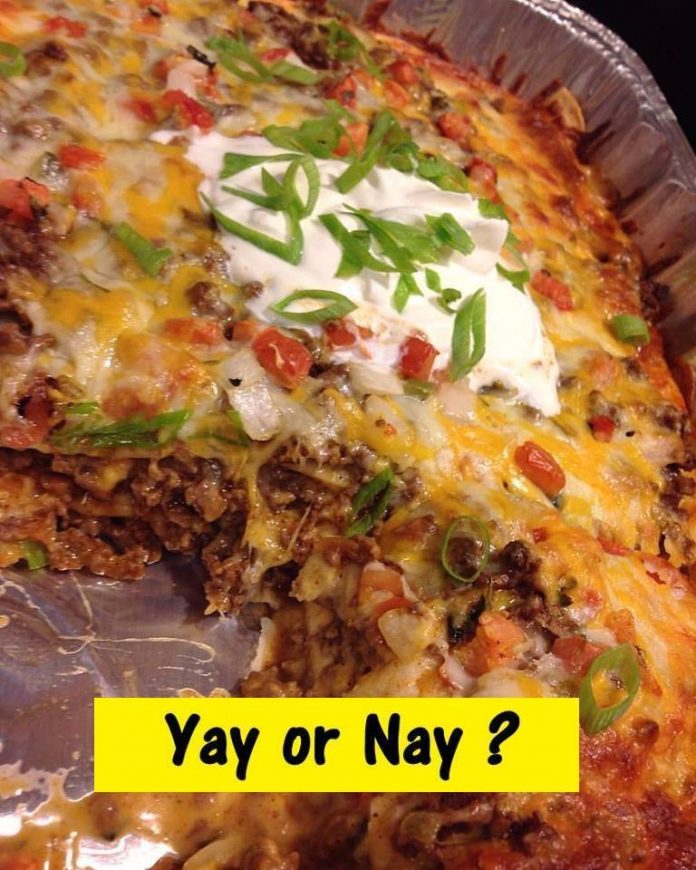 THIS TACO LASAGNA RECIPE IS SO EASY AND IS A CASSEROLE THAT FREEZES WELL. WHEN MEXICAN FOOD MEETS ITALIAN YOU GET LAYERS OF PASTA, SALSA, SEASONED TACO MEAT AND LOTS AND LOTS OF CHEESE.
This Taco Lasagna has only 7 ingredients and is a crowd pleasing cheesy Mexican dinner! This recipe is great topped with some homemade guacamole and pico de gallo.
TACO LASAGNA
I was talking to my sister on the phone the other day and she said, "Geez. You're such aPinterest mom."
Her comment spawned from the fact that I had Super Glued some quarters on our sidewalk for April Fool's Day. Umm…pretty sure that wasn't on Pinterest. And I can't say it was just for the kids because I enjoyed every second of watching people try to pick them up.
Oh and I put salt in their toothbrushes. Which turns out backfired completely because now they never want to brush their teeth.
I love the ideas that flow on Pinterest but if an idea takes more than 10 minutes…20 max, I'm out. So if you want to call me a Pinterest mom then you're right. I'm a 10 minute Pinterest mom.
I've found that my kids really appreciate the small little things that make the holidays fun and it doesn't have to be elaborate.
INGREDIENTS:
soft 6 inch tortillas,
ground beef or turkey or even ground chicken,
season of your choice (taco seasoning or season salt n pepper),
tomatoes,
red onion,
scallions,
cilantro,
heavy cream,
mild cheddar Colby jack and Monterey Jack cheese,
butter,
Cajun season (for cheese sauce) and sour cream to top
DIRECTIONS:
Click Next Button Bellow for Full Recipe…