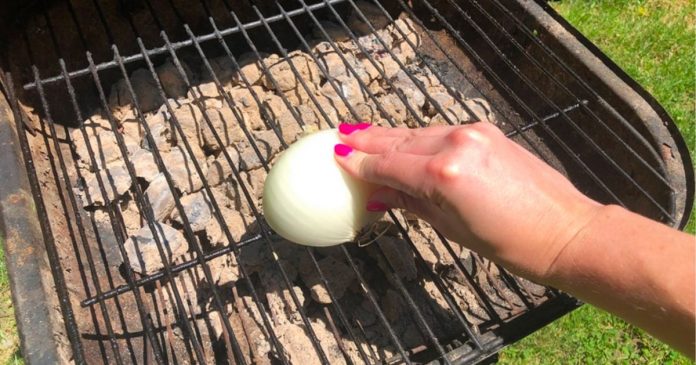 I love barbecue season! Not only does barbecuing keep the house cooler without having to turn on the oven, but the food always tastes better when it's grilled, doesn't it? The only drawback to barbecue season is that you have to clean the grill after every use. And that's exactly why I wanted to share this inside tip with you.
You've probably heard about the dangers of wire-bristled barbecue brushes. The bristles can easily come loose from the brush, get stuck in the food and eventually lodge in the throat. Fortunately, there is a much better (and safer) alternative, and that is an old, common onion.
Simply cut an onion in half and use a roasting fork to rub the fleshy side of the onion into the grill. This method is most effective while the grill is still hot. Onions will absorb burned food residue much more effectively than a barbecue brush, and onions have natural disinfecting properties. And the best part is that you won't have to worry about metal bristles getting stuck in your food.
It's such simple advice, but it's advice I've been using ever since I discovered it. If you have a charcoal barbecue, you can leave the used onions on the coals to add a delicious onion flavor to anything you do on the grill. Now you have one last trick up your sleeve the next time you take the lid off your barbecue – enjoy grilling everyone!