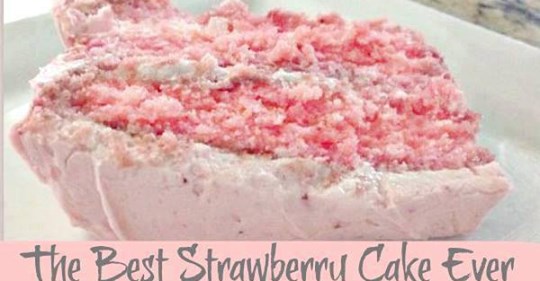 "Let's just say you may regret that second piece of cake.'
Oh my God. Regret cake? Whatever was about to happen must be truly evil."
― Rachel Hawkins,
Right! the following quotes said it all about cake, I have nothing else to say except this: "EAT CAKE WHILE YOU CAN"
This recipe gives birth to the best strawberry cake ever made, so what are we waiting for? Wear your apron and follow my lead! Let your kitchen smell like a fairy tale story with princesses in it (and so much food of course).
"Cake is happiness! If you know the way of the cake, you know the way of happiness! If you have a cake in front of you, you should not look any further for joy!"
― C. JoyBell C.
How to section
Partner! Get your cooking notebook ready to jot things down, your utensils out and let's go!
Ingredients
1 large egg's white
½ cup of water
½ tablespoon of vanilla
9 ounces of white or vanilla cake mix ½ of an 18 ounces package
3 tablespoons of vegetable oil
1 pint of washed and sliced strawberries
¼ cup of all-fruit preserves melted strawberry
1 ½ cup od whipped cream
¾ cup of heavy cream whipped with 1 tablespoon of confectioner's sugar
The Best Strawberry Cake Ever
Prep time: 1 hour 30 minutes
Baking time: 25 minutes
Total time: 6 hour 1
Servings: 10 – 12 slices
Say Hi to your new favorite cake recipe! Looks fabulous right? What about the taste? Looking forward to read your comments!
Important notes:
Keep in mind that cake layers can be cooled, cooled and covered tightly in kitchen temperature overnight!
You can add 1-2 small drops of pink or red food coloring for an extra lovely shade to the cake. I add a small drop of pink gel food coloring (this is optional).
Serving Ideas
To be clear, this section needs much creativity and less thinking! Serve drinks you have in hands (I prefer cold drinks) with slices of fruits on the sides.
HOW TO ADD EXTRA STRAWBERRY FLAVOR?
Use puree fresh strawberries, let cool and stir into cake batter gently!
CLICK NEXT PAGE BELOW TO CONTINUE READING …