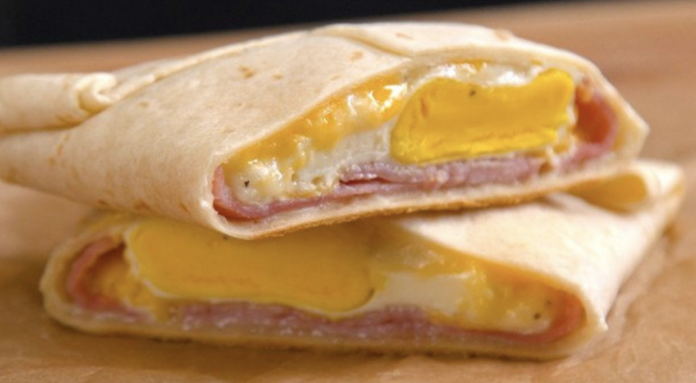 If you are a food fan like me and you like to eat but you have to keep those carbs low, then this recipe is just for you. I like burritos, but I can't just by them because they have high levels of carbs and that made me a bit sad because I absolutely adore burritos. But, lucky for me, I came across this recipe that produces a delicious burrito with low levels of carbs and it contains ham and cheese. How cool is that?
First, you will need these ingredients:
20 ham slices
Half a cup of shredded cheddar cheese

2 tablespoons of butter

A small diced medium onion
3 cloves of minced garlic
8 eggs
Salt and pepper
2 cups of baby spinach
A cup of small-diced tomatoes
To make this delicious low carb burrito, simply follow these directions
First, grab a large saute pan and melt butter in it over medium heat, then add onion and garlic and start cooking for 2 to 3 minutes until the onion becomes tender. Once done, add the eggs and use salt and pepper for seasoning. Start cooking eggs for 3 to 4 minutes straight and make sure to make them reach a soft scramble state by frequently stirring them, then add in the cheddar cheese and start mixing until it melts, and turn off the heat. Start spinning in spinach and make sure to let it wilt from the residual heat, then add the tomatoes and start mixing well. Once done, overlap two pieces of ham and place half a cup of the egg blend on it, then start rolling the same way you roll a burrito and repeat the same process for the remaining eggs and ham slices.
When you are done rolling, put every roll in a casserole dish and set under the broiler for 5 minutes until you notice a color on the ham, then serve, eat, and enjoy.