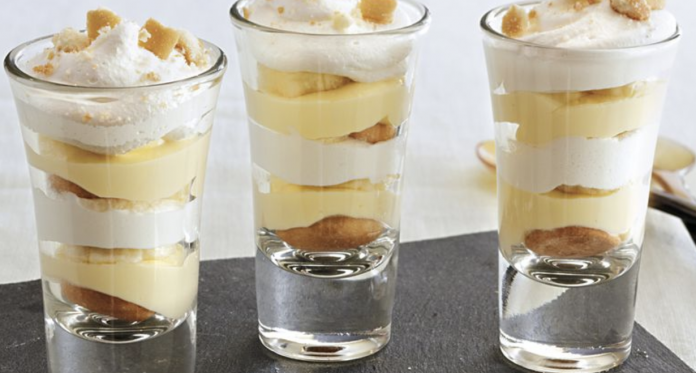 Do you want to make the best dessert to spoil yourself that can also come in handy when you are having an adults only party? Then the banana pudding shots are what you are looking for especially if you love banana pudding. I am sure that you are going to love this recipe, especially when knowing that banana coconut rum is one of the ingredients.
Shots are just fun to make and pleasant to drink. This recipe can come in handy if you want a nice and easy shot to make at home to have some fun.
This recipe deserves a NOBEL price because it is beyond amazing. I introduced many friends to it, and guess what? They all loved it and they can't wait for the next party to taste it again.
The banana pudding shots have everything needed for an amazing taste, for example, it contains milk, vanilla wafers, cream cheese, etc. The only new ingredient is rum.
When you finish making the banana pudding shots, just pour the blend into shot glasses, but you need to fill a piping bag with it first, then squeeze it. And this method is much easier than usual scooping.
You can even be creative if you want and add whipped cream, mini wafer on top or anything that you love really.
I love all kinds of shots, but I have to say that banana pudding shots topped them all, because it is so DELICIOUS.
Pudding shots are actually easy to make because you can mix any pudding flavor you want with any alcohol you want, and just like that, you got yourself a pudding shot.
When you get used to making pudding shots, then you can let your imagination do the thinking and try different recipes, or why not create your own.
So without further ado, here is the proper way to make a banana pudding shot.
Here is what you are going to need.
INGREDIENTS
1 1/4

 

C

 

of milk

3/4

 

C

 

banana coconut rum

1

 

can of sweeten condensed milk

1 8-

 

oz.

 

package cream cheese

 

softened

1

 

container Cool Whip

1/2

 

C

 

toasted coconut

1

 

package of Mini Nilla wafer cookies

1

 

package of 2 oz plastic shot glasses

1

 

disposable piping bag

Whip cream to garnish

Nilla wafer to garnish

1

 

pkg

 

Instant Banana Pudding
DIRECTIONS
Grab a large mixing bowl, then mash a banana, pudding, rum, and milk together for 5 minutes.

 Add sweetened condensed milk and start mixing until it gets smooth

 Add the cream cheese and start mixing until it gets smooth

Add the whip then start mixing until it becomes smooth

Scoop the pudding into the piping bags

Pour the pudding into the shot glasses

Top with whipped cream, toasted coconut, and a Nilla wafer

Start consuming