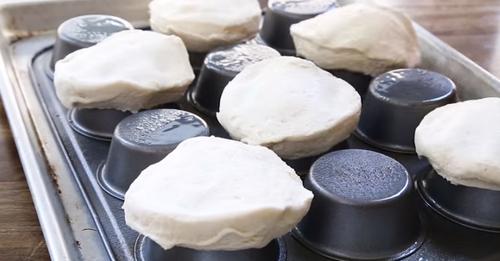 Most cooks have at least one muffin tin in their possession, and depending on how often you make cupcakes or muffins, they get used pretty regularly. But is that all you do with this kitchen utensil?
Sure, right there, you fill them with your batter – savory or sweet – and make portable snacks. In addition to cakes, we know some of you also make candy, snacks, and breakfasts in yours. In the non-food category, you DIYers probably also use them as servers, storage boxes or molds for things like bath bombs or homemade herb cubes.
Turns out a muffin tin is a secret weapon in our quest for delicious food. Whether it's taco bowls, cookie cups, miniature soup bowls or anything else, there's a way to make it taste better. All Recipes shows us the method.
In this case, just flip the thing over. Oh yes, the backside of your muffin tin is also worthy of making cup-sized portions of yum.
First, you have cookie bowls made with pre-packaged cookie dough. If you're feeling fancy (and don't mind the work), go ahead and make your own dough from scratch. You'll place pieces of cut dough on the back of each cup, molding it slightly into the desired shape.
Follow the baking instructions in the video, then remove them to cool. Fill them with breakfast ingredients, like eggs or ham, or go crazy with your own recipe ideas. Why not sweeten things up with marmalade or nuts? Cheese, chili and potatoes are always welcome!
Next, look at the mini taco bowls. Use a 12 cup pan, spray the bottom with cooking spray so the shells don't stick. Choose corn or flour tortillas to make 4 bowls at a time by pressing them between the slots in the pan. Bake as directed for 15 minutes.
Some experienced taco bowl makers suggest reheating the tortillas before baking to prevent cracking. You can do this in the microwave, on the stovetop or in the oven, a few seconds at a time.
Watch the video to get all the details on how to make these two muffin recipes. But don't think that's all. Another winning recipe is to make luscious cookie dough dessert bowls. As with the cookie idea, roll out the dough a bit before pressing the pieces onto the bottom of the muffin tins.
Bake at 350 degrees for 10-12 minutes and let cool before filling with ice cream, s'mores toppings, fudge, peanut butter or whatever you like!
Have you cooked with the underbelly of your muffin tins before?
What would you or do you like to make with these?