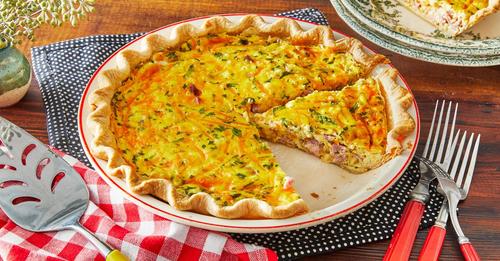 Like a breakfast casserole, quiche is a great make-ahead dish! Ham and cheese is a classic filling combination that everyone will love. This easy ham and cheese quiche recipe uses a store-bought crust that doesn't require baking. Even the filling is as simple as can be – it's whisked together in a bowl and requires no cooking on the stovetop! Spinach Quiche, Quiche Lorraine and even Ree Drummond's Cowboy Quiche have a special place in our brunch recipe box, but this ham and cheese quiche is our favorite for its simplicity and ease!
Can I use milk instead of half and half for the quiche?
The milk and flour add richness and creaminess to the quiche. You can use whole milk in its place, but there are better substitutions. Instead of a cup of half and half, you can also substitute 1/2 cup sour cream and 1/2 cup milk. Or, use 1/2 cup heavy cream and 1/2 cup milk.
Do you pre-bake the crust for a quiche?
If you like the assurance of a crispy bottom crust, you can totally bake the pie crust for this recipe. To pre-bake: Preheat oven to 375 degrees. Place the pie crust in the pan and crimp the edges. Place it in the freezer for 10 minutes. Once cooled, prick the base of the crust all over, 8-10 times, with a fork. Line the bottom of the pie with parchment paper and fill it with pie weights. Place on a rimmed baking sheet. Bake for 10 to 12 minutes, until edges of crust are dry. Carefully remove the paper with the weights. Return to the oven for 3-5 minutes until the bottom of the crust is dry and the edges are just starting to turn slightly brown. Let it cool slightly, then add the filling and bake as directed.
Should I bake the crust for a quiche?
It's not quite necessary to bake the crust of a quiche. This recipe adds the simple trick of preheating a baking sheet while your oven preheats.
YIELDS:6 – 8 serving(s)
PREP TIME:10 mins
TOTAL TIME:50 mins
Ingredients
1 refrigerated pie crust (from a 14-oz. box)
4 large eggs
1 c. half-and-half
1 tbsp. chopped fresh parsley, plus more for serving
1 tbsp. Dijon mustard 
1 1/2 tbsp. all-purpose flour
1/4 tsp. kosher salt
8 oz. package diced ham
1 c. shredded sharp cheddar cheese
1 small shallot, finely chopped
Directions
1Preheat the oven to 375° with a baking sheet on the center rack. Fit the pie crust into a 9-inch pie plate (not deep dish). Fold the edges of the crust under and crimp as you like. 
2Whisk together the eggs, half and half, parsley, mustard, flour, salt and pepper in a large bowl.
3Sprinkle the ham, cheddar cheese, and shallot in the bottom of the chilled pie crust. Pour in the egg mixture. 
4Place the quiche on the pre-heated baking sheet and bake for 40 to 45 minutes until puffed around the edges and the center is set. Let cool on the sheet tray for at least 30 minutes, before slicing and serving. Top with more fresh parsley, if you like.