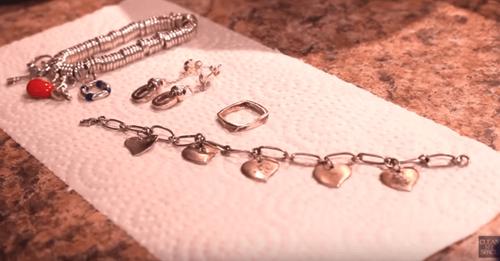 Silver jewelry is so beautiful, until it starts to tarnish. It doesn't matter if you have high quality pieces or cheap ones, tarnish is inevitable. Most of the time, you'll notice it when you get ready for a big night out and pull that necklace or bracelet out of your jewelry box, only to discover those telltale black spots.
What's a jewelry lover to do? Learn the quick and easy way to remove them, thanks to Clean My Space.
Melissa from CMS shows us the magical way to make your silver jewelry look like new, and she demonstrates it on two necklaces, a bracelet and a very tarnished silver ring. All the jewelry comes from different places and contains different levels of real silver.
This proves that this method can clean any type of silver, regardless of its shape!
How to Clean Tarnished Silver
Materials
Bowl
Aluminum Foil
Salt
1 tbsp Baking Soda
1/2 Cup Boiling Water
1/2 White Vinegar
Instructions
Line the bottom of a bowl with aluminum foil.
Add salt and baking soda.
Add boiling water and white vinegar.
Put each piece of silver into the mixture, making sure it touches the aluminum. Let soak for five minutes.
Remove the silver and use a microfiber cloth to dry and polish the jewelry.
We hope you'll see amazing results with this simple concoction! These ingredients are all easy to find at your local store (if you don't already have them sitting at home) and are well-worth restoring your jewelry back to its former glory.
What do you think of this cleaning trick?