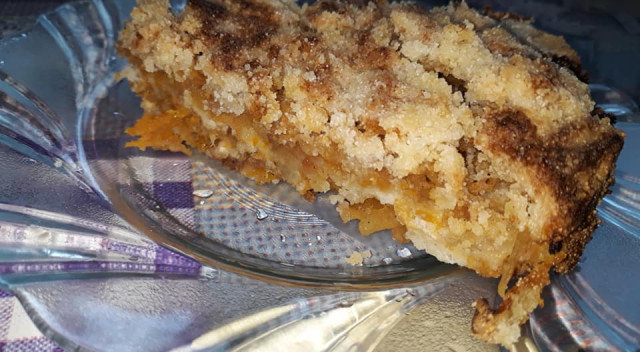 Preparation : 25 min.
Cooking : 35 min.
Тotal : 60 min.
Servings : 10
"We admit that you will make a mess, which is a little more than three cups, but this cake is great and worth a try"
INGREDIENTS
pumpkin – 0.9 lb (400 g) peeled
apples – 1.3 lb (600 g)
semolina – 1 cup
flour – 1 cup
sugar – 1 cup
brown sugar – 2 tbsp.
butter – 4.2 oz (120 g)
cinnamon – 1 tsp.
baking powder – 1 tsp.
walnuts – 1/2 cup (chopped walnut)
HOW TO COOK
Peel the apples and grate them on a coarse grater. Grate the pumpkin as well. Add the walnuts, cinnamon and brown sugar. Stir.
Mix the dry ingredients in a bowl and add the baking powder. Stir.
Grease the bottom of the baking pan with a removable bottom with butter.
Pour 1/3 of the dry mixture. Apply an even layer of the fruit mixture.
Pour it again with the dry mixture and the rest of the fruit mixture.
Grate the frozen butter, coarse grater, on the arranged layers.
Sprinkle with the remaining dry mixture on top.
Bake the apple cake in a preheated oven to 390°F (200°C).
Cool the baked apple semolina cake and cut it before serving.
Enjoy this Three Cups Cake!