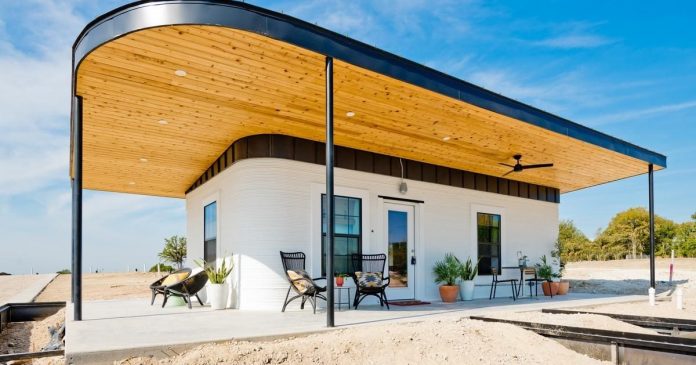 In a North American landscape plagued by a severe housing shortage and exorbitant real estate prices, the tiny home trend has steadily gained momentum. However, one pioneering startup has taken this trend to remarkable new heights by harnessing the power of 3D printing to create cost-effective and swift-to-construct homes.
Meet ICON, the innovative company that has joined forces with Mobile Loaves & Fishes, a non-profit organization, to initiate the development of the very first community of 3D printed homes in Austin, Texas. Their mission? To provide dignified and affordable housing for Austin's burgeoning homeless population within the nation's only master-planned community designed exclusively for the chronically homeless.
Leveraging their groundbreaking 3D printing technology, ICON accomplished a remarkable feat by constructing a welcoming center spanning nearly 500 square feet in under 27 hours. "We couldn't be more pleased with the outcome of the welcome center," remarked Jason Ballard, co-founder and CEO of ICON. "I believe that anyone who lays eyes on it will be inspired by the future it represents. Homelessness and its solutions often invite cynicism, but projects like this offer a beacon of hope."
The envisioned Austin community encompasses an expansive 51-acre property, and upon completion, it will provide shelter for approximately 480 individuals who were previously homeless, constituting roughly 40% of Austin's homeless population. ICON's commitment to this project has not only yielded remarkable results but has also expanded their portfolio to include an array of community-centric designs.
As we look ahead, it's becoming increasingly evident that tiny home communities hold the key to addressing our pressing housing needs. They offer a pragmatic solution that doesn't compromise on quality or affordability. ICON's innovative approach and dedication to tackling homelessness provide a compelling blueprint for a more promising future.
In summary, as the housing crisis intensifies, ICON's 3D printed homes in Austin, Texas, offer a glimpse into a brighter future, one where homelessness can be alleviated through creative and forward-thinking solutions.
picture source : homemaking.com – YouTube/ICON – 3D Tech