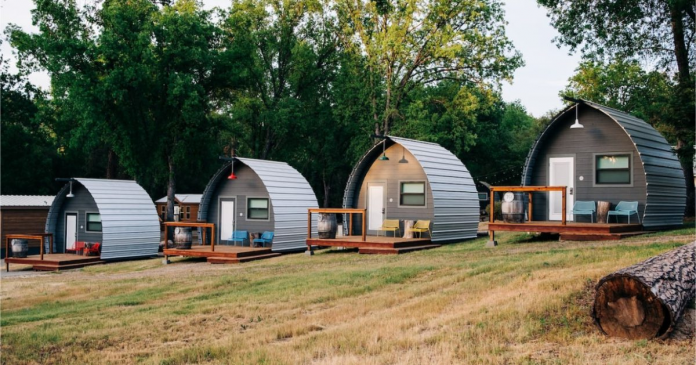 As the real estate costs in North America continue to soar, an increasing number of individuals are embracing the concept of tiny home living. The rationale is clear: if you're willing to embrace a smaller living space to escape the burden of a mortgage, why wouldn't you? In Cypress, Texas, a forward-thinking company is making waves by designing and constructing tiny homes that excel in durability, affordability, and aesthetics. They've identified the pressing demand for more affordable housing and are rising to meet it in a truly remarkable way.
This pioneering enterprise, known as Arched Cabins, offers an intriguing proposition. It empowers you to select the tiny home kit that resonates with your vision, manufactures it right on the Texan premises, and then promptly delivers it to your chosen build location within the relatively short timeframe of eight to 10 weeks from the moment of your order placement. Each delivery arrives as the fundamental shell of the structure, providing you with a blank canvas to craft and embellish the interior according to your distinct preferences and style.
What sets Arched Cabins apart is not only their adaptability but also their environmental consciousness. These tiny homes sport roofs constructed from 32-50% recycled steel, a material choice backed by an impressive 40-year warranty. Moreover, the very design of these compact dwellings takes water collection into thoughtful consideration, while their construction incorporates a minimum of R13 insulation to enhance energy conservation.
Arched Cabins doesn't limit their reach either. They pledge to deliver their products to virtually any location within the lower 48 contiguous United States, provided there is a minimum 10-foot-wide entry and no need for a 4×4 vehicle to access the property. Pricing structures are flexible and scale with the size of the cabin, starting at an accessible $1,440 for the most budget-conscious buyers and peaking at just under $20,000 for those seeking a larger and more feature-rich abode.
These captivating architectural gems from Arched Cabins serve a multitude of purposes. From functioning as cozy tiny homes to inspiring art studios, practical workshops, rustic rural cabins, charming cottages, or even accommodating granny pods, their versatility knows no bounds. Whatever your imagination can conjure, these little wonders are ready to bring your vision to life.
source pictures : Arched Cabins