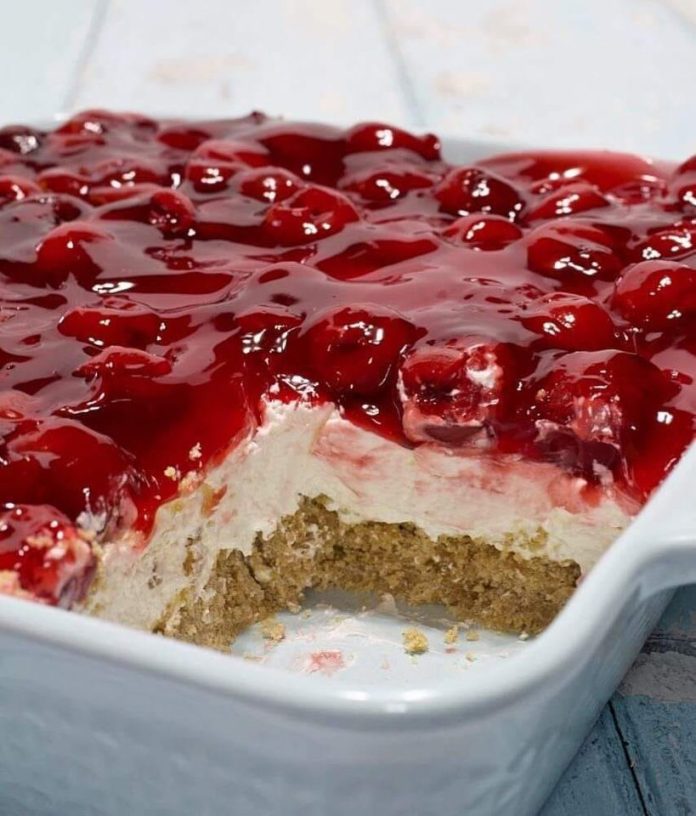 This delightful cherry treat is a breeze to whip up, yet it never fails to leave a lasting impression. With just a few minutes of preparation, you can create a dessert that strikes the perfect balance between sweetness and flavor.
Ingredients:
For the Crust:
7 tablespoons of unsalted butter
1 1/2 cups of graham cracker crumbs (approximately 9 whole crackers)
3 tablespoons of granulated sugar
For the Filling:
8 ounces of cream cheese, softened
1 cup of powdered sugar
1 teaspoon of pure vanilla extract
1 container of 8 ounces of whipped topping (like Cool Whip)
1 can of cherry pie filling, 21 ounces
Instructions:
Creating the Crust:
Begin by melting the butter in a medium-sized bowl. You can do this quickly by microwaving it for about 30 seconds.
To the melted butter, add the graham cracker crumbs and granulated sugar. Mix thoroughly until everything is well combined.
Firmly pat down the crumb mixture into the bottom of an 8 x 8 baking dish that has been lightly greased. Set it aside while you prepare the filling.
Preparing the Filling:
In a larger bowl, place the softened cream cheese. Use an electric mixer to blend it until it becomes smooth and free of any lumps.
Add the powdered sugar and pure vanilla extract to the cream cheese mixture, and continue mixing until well incorporated.
Gently fold in the whipped topping (such as Cool Whip) until the cream cheese and whipped topping are harmoniously combined. Be careful not to overmix.
Assembling the Delight:
Evenly spread the creamy filling over the graham cracker crust using a spoon or an offset spatula.
Spoon the cherry pie filling over the top of the creamy layer, taking care to spread it evenly across the surface.
Chill and Enjoy:
Refrigerate the assembled delight for a minimum of 2 hours before serving. For best results and enhanced flavors, consider leaving it in the fridge overnight.
Remember to store any leftovers in the refrigerator to savor the deliciousness again later.
This effortless cherry bliss delight is a testament to simplicity and flavor. It's sure to be a delightful addition to any gathering or a comforting treat for a sweet craving.
---
NOTES
Tip from reader Jody…This is a great recipe. To remove easily, put hot water in the sink. Just enough so the bottom and a tiny bit of the sides of the pan are covered. Hold for under a minute and that will release the crust and it came out of the pan and cut wonderfully.  Make sure the water is very hot."
PICTURE SOURCE : allwecook.com