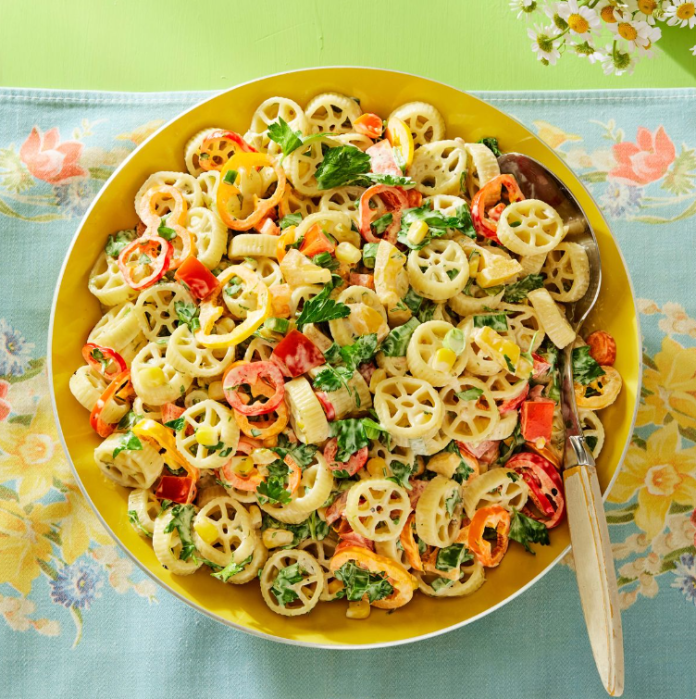 Greetings, fellow food enthusiasts! Today, I'm excited to share with you a sensational Veggie Pasta Salad recipe that boasts a perfect balance of flavors, making it a delightful addition to your dining repertoire. Creamy dressings have a magical way of complementing a medley of ingredients, and this one does it exceptionally well. It's time to dive into this culinary creation that combines pasta, fresh vegetables, and zesty dressing to create a palate-pleasing dish.
Creamy Veggie Pasta Salad
Ingredients:
1 teaspoon kosher salt, plus extra for seasoning
1 pound rotelle pasta
1 cup fresh corn kernels
3/4 cup mayonnaise
1/2 cup sour cream
1/4 cup pickled jalapeños, finely chopped, plus 2 tablespoons of the jalapeño brine
Zest and juice of 2 limes
1 garlic clove, finely minced
1/4 teaspoon black pepper
10 baby bell peppers, deseeded and sliced into rings
4 scallions, diced
2 tomatoes (1 red and 1 yellow), diced
2 cups fresh cilantro, chopped
1 cup fresh parsley, chopped
Directions:
Prepare the Pasta: In a large pot, bring salted water to a rolling boil. Add the rotelle pasta and cook until it reaches the desired al dente texture, adding the fresh corn during the final minute of cooking. Drain and then rinse the pasta and corn under cold running water.
Create the Creamy Dressing: In a spacious bowl, whisk together the mayonnaise, sour cream, chopped pickled jalapeños, jalapeño brine, lime zest, lime juice, finely chopped garlic, black pepper, and 1/2 teaspoon of salt until a luscious dressing forms.
Combine Veggies and Pasta: Incorporate the baby bell peppers, scallions, and diced tomatoes into the dressing in the bowl. Shake off any excess water from the pasta and corn using a colander, then add them to the bowl. Gently toss everything together until the pasta and veggies are well coated with the creamy dressing.
Add Fresh Herbs: Sprinkle the chopped cilantro and parsley over the salad and give it another gentle toss to evenly distribute the vibrant freshness.
Season to Taste: Taste your creamy veggie pasta salad and adjust the seasoning with more salt if needed. Allow the flavors to meld by letting the salad sit at room temperature for a minimum of 30 minutes or refrigerate it for up to 6 hours.
Conclusion: There you have it – a scrumptious Creamy Veggie Pasta Salad that's sure to be a hit at any gathering. With its harmonious blend of creamy goodness and vibrant, fresh ingredients, this salad is a culinary masterpiece. So, whip up a batch, savor the delectable flavors, and share this delightful dish with your loved ones. Enjoy your culinary journey!
SOURCE : thepioneerwoman.com