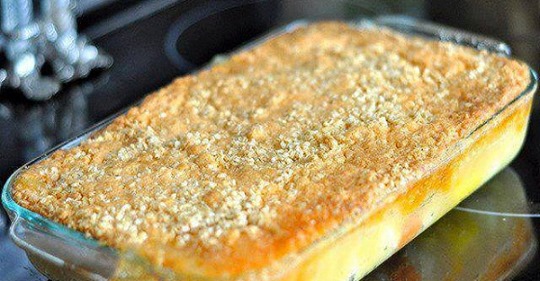 "But how will I eat cake if my head is over there, and my hands are over here?"
― Marie Antoinette
I know what goes in your mind right now, "AGAIN? CAKE?" Yes, my friend! I'll keep providing you with a lot of cake recipes until you find yourself the happiest human being! I would love to see everyone happy and smiling!
Tropical dump cake recipe is an easy well-made cake to bake in special occasions, or even in normal days when your kids are asking for store bought candies (or when you're bored). Follow my lead and let's create ART!
"But I'm really enjoying my retirement. I get to sleep in every day. I do crossword puzzles and eat cake."
― Derek Landy,
How to section
Kitchen partner! Get your utensils ready and of course, wear a colorful apron and let's GO!
Simple Steps:
Set you oven to 350°F
Put the fruits in the middle of the baking dish (you choose the size)
Add the fruit juice then pour the cake mix on top.
Mix oatmeal with coconuts then sprinkle all over the cake.
Pour melted butter on the top of the cake (make sure to cover all the corners).
Bake and serve with ice cream!
Ingredients
1 can of crushed undrained pineapple (20 ounces)
1 can of mango or undrained peach slices (15 ounces)
1 jar of maraschino drained cherries, cut them in a half
½ cup of flaked coconuts
1 cup of packed brown sugar
½ cup of butter, cut in thin slices
1 package of white cake mix (16.5 ounces)
Some salt
TROPICAL DUMP CAKE RECIPE
Prep time: 15 minutes
Baking time: 1 hour
Total time: 1 hour 15 minutes
Servings: 16 slices
Enjoyed your tropical dump cake? I'm pretty sure you have! Tell us about it in the comment section down below, we're looking forward to hear from you.
Important notes:
If you were a cake lover, these tips and hacks would absolutely be a life saver for you!
DIYs are a life saver, take some minutes to check some hacks from time to time, I assure you that you'll develop the creative side in you.
Always lay down a plastic painting sheet before you start baking! Or even decorating!
To check if your eggs are always good to use, place them in a bowl full of water, if they sink it means they're still fresh and ready to use!
While whisking, use a paper plate to prevent splatters
Serving Ideas
A hot summer day calls for ice cream and tropical dump cake, a lot of cold juice and so much love!
Tropical dump cake can be served along with anything and everything, set your creativity free and make your own special varieties and sides!
CLICK NEXT PAGE BELOW TO CONTINUE READING …