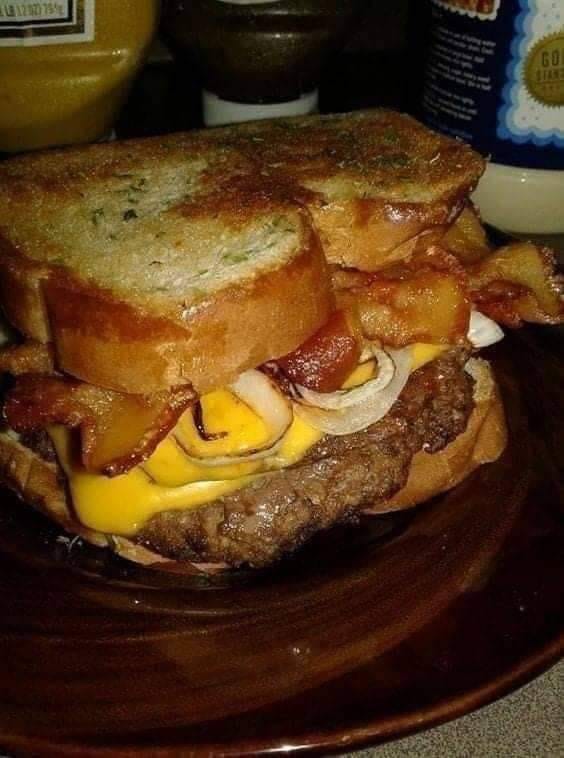 Prepare your taste buds for a culinary adventure like no other with our recipe for the Ultimate Big Mac French Toast. This creative twist on the iconic Big Mac sandwich infuses a classic French toast recipe with flavors that will bring your family together around the table. So good, even picky eaters will become fans. Don't hesitate to share this delectable delight with friends and be ready for compliments. In this recipe, we'll show you how to craft this unforgettable dish, turning your ordinary meal into an extraordinary experience.
Ingredients:
4 eggs
1/2 cup of milk
1/2 cup of heavy whipping cream
1/2 tsp of garlic powder
1 tsp of salt
1 tsp of black pepper
3 slices of bread
1 tsp of oil
1 tsp of butter
A pinch of sesame seeds
4 slices of American-style cheese
2 cups of ground beef
1 tsp of salt
1 tsp of black pepper
Directions:
Begin by heating the butter in a pan and frying the three slices of bread. For an added touch of flavor, sprinkle sesame seeds on one slice and layer the other two with slices of American-style cheese.
Next, prepare the burger patties by mixing the ground beef with a teaspoon of salt and a teaspoon of black pepper. Shape the meat into large, square burger patties.
In the same pan, add a bit more oil and fry both burger patties at the same time until they're cooked to perfection.
Now, it's time to assemble the Big Mac French Toast. Start with the first slice of French toast, then generously layer it with sauce, onions, fresh lettuce, and the first burger patty. Top it all off with some pickles.
Add the second slice of French toast on top, and repeat the layering process with sauce, onions, lettuce, and pickles.
Finally, place the third slice of French toast to complete the towering masterpiece.
Conclusion:
The Ultimate Big Mac French Toast is a delightful fusion of classic breakfast and beloved fast-food flavors. It's the perfect dish to share with family and friends, guaranteed to satisfy every palate. This recipe brings a new level of creativity to your kitchen, ensuring an unforgettable meal that leaves your taste buds wanting more. Remember to save this recipe for later, as you won't be disappointed, and we'd love to hear your feedback. Enjoy this exceptional twist on an all-time favorite!
Source of the picture : buzzin herald