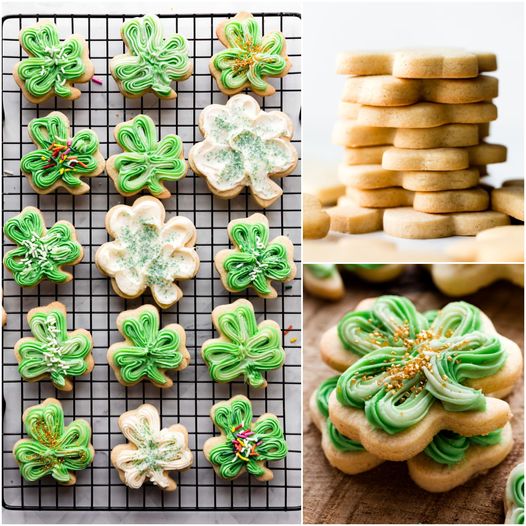 Using your choice of cookie cutters, you can enjoy these soft-baked vanilla bean sugar cookies as any shape you want. I'm showing shamrock-shaped cookies for St. Patrick's Day! Without frosting, the vanilla bean cookies are lightly sweetened and fabulous with coffee or tea. But if you want to add some dazzling decoration, top with vanilla bean buttercream and a happy dose of sprinkles.
These Vanilla Bean Shamrock Cookies Are:
easy to make and decorate
festive for St. Patrick's Day
soft & thick if you don't roll the dough too thin
wonderfully buttery
flavored with real vanilla bean
And there's something to say about these shamrock cookies even without the buttercream— they're so buttery, remind me of shortbread, and the vanilla bean flavor really shines through!
My Absolute Best Sugar Cookie Recipe
If you haven't tried my sugar cookies yet, now is the time! I use that sugar cookie dough for nearly all of my shaped sugar cookies and you can find them all on the new Cut Out Cookies page. Loved by many, the sugar cookies are soft, thick, hold their shape in the oven, and have a flat surface ready for decorating. Today's recipe is the same only you'll add vanilla bean and we're taking a small step away from traditional royal icing, too.
For today's shamrock cookies:
Vanilla Bean: Add the seeds scraped from 1 whole vanilla bean. If you can't find vanilla bean in your grocery store, you can order some online. I use and love these exact vanilla beans— and they're usually what I use for homemade vanilla extract and homemade vanilla sugar too.
Optional Vanilla Sugar: Speaking of homemade vanilla sugar… have you ever used it in baking before? Today's recipe is the perfect place for vanilla sugar because this type of sugar is best used in recipes where vanilla is the prominent flavor. Just use it as a 1:1 replacement for regular granulated sugar. It's optional though– while I've made these sugar cookies with vanilla sugar before, I didn't use it in today's pictured cookies.
Cookie Cutter: You can use today's vanilla bean sugar cookie dough with any cookie cutter. For the shamrocks, I used the medium and small cookie cutters from this exact shamrock cookie cutter set. I know the store Michaels carries shamrock cookie cutters and if you want to purchase a single shamrock cookie cutter, this 3-inch size is a great option.
Prep Time:2 hours
Cook Time:12 minutes
Total Time:3 hours
Yield:24 3-4 inch cookies
Description
Using your choice of cookie cutters, you can enjoy these soft-baked vanilla bean sugar cookies as any shape you want. You can leave them plain or decorate with the vanilla bean buttercream listed below or try royal icing or this easy cookie icing instead.
Ingredients
2 and 1/4 cups (281g) all-purpose flour (spoon & leveled), plus more as needed for rolling and work surface
1/2 teaspoon baking powder
1/4 teaspoon salt
3/4 cup (1.5 sticks or 170g) unsalted butter, softened to room temperature
3/4 cup (150g) granulated sugar
seeds scraped from 1 whole vanilla bean*
1 large egg, at room temperature
2 teaspoons pure vanilla extract
Vanilla Bean Buttercream
3/4 cup (1.5 sticks; 170g) unsalted butter, softened to room temperature
seeds scraped from 1/2 of a vanilla bean*
3 cups (360g) confectioners' sugar, sifted (sift after measuring)
3 Tablespoons (45ml) heavy cream, half-and-half, or whole milk, at room temperature
1 and 1/2 teaspoons pure vanilla extract
salt, to taste
optional: gel food coloring for tinting
optional: sprinkles for decorating
Instructions
Whisk the flour, baking powder, and salt together in a medium bowl. Set aside.
In a large bowl using a hand mixer or a stand mixer fitted with a paddle attachment, beat the butter and sugar together on high speed for 1 minute. Add the vanilla bean seeds and beat again until combined and butter is creamy, about 1-2 more minutes. Add the egg and vanilla extract and beat on high speed until combined, about 1 minute. Scrape down the sides and up the bottom of the bowl and beat again as needed to combine.
Add the dry ingredients to the wet ingredients and beat on low speed until combined. Dough will be a little soft. If the dough seems too soft and sticky for rolling, add 1 more Tablespoon of flour.
Divide the dough into 2 equal portions. Place each portion on a piece of lightly floured parchment paper or a lightly floured silicone baking mat. With a lightly floured rolling pin, roll the dough out to about 1/4-inch thickness. Use more flour if the dough seems too sticky. The rolled-out dough can be any shape, as long as it is evenly 1/4-inch thick.
Lightly dust one of the rolled-out doughs with flour. Place a piece of parchment on top. (This prevents sticking.) Place the 2nd rolled-out dough on top. Cover with plastic wrap or aluminum foil and then refrigerate for at least 1-2 hours and up to 2 days.
Once chilled, preheat oven to 350°F (177°C). Line 2-3 large baking sheets with parchment paper or silicone baking mats. Carefully remove the top dough piece from the refrigerator. If it's sticking to the bottom, run your hand under it to help remove it. Using a cookie cutter, cut the dough into shapes. Re-roll the remaining dough and continue cutting until all is used. Repeat with 2nd piece of dough. (Note: It doesn't seem like a lot of dough, but you get a lot of cookies from the dough scraps you re-roll.)
Arrange cookies on baking sheets 3 inches apart. Bake for 11-12 minutes or until lightly browned around the edges. If your oven has hot spots, rotate the baking sheet halfway through bake time. Allow cookies to cool on the baking sheet for 5 minutes and then transfer to a wire rack to cool completely before decorating.
Make the buttercream frosting: With a handheld or stand mixer fitted with a paddle attachment, beat the butter and vanilla bean seeds together on medium speed until butter is creamy, about 2 minutes. Add confectioners' sugar, heavy cream, and vanilla extract. Beat on low speed for 30 seconds and then increase to medium-high speed and beat for 2 full minutes. Taste. Add a pinch of salt if frosting is too sweet. To color the frosting, divide the frosting between 2-3 bowls (or however many colors of frosting you want). Stir in 1-2 tiny drops of gel food coloring (or more, depending on your desired color).
Frost the cooled cookies: You can decorate the cookies with a knife, icing spatula, or use a piping bag and piping tip. Top with sprinkles, if desired. In the pictured cookies, I filled a piping bag with spoonfuls of both green and uncolored frosting and used Ateco 30 piping tip. Pipe hearts as the 3 leaves and a line as the stem.
Frosting does not harden or crust very much, though you could gently stack 1 frosted cookie on top of another, but expect some slight squishing. Store frosted cookies covered at room temperature for up to 1 day or in the refrigerator for up to 1 week. Store unfrosted cookies covered at room temperature for up to 5 days or in the refrigerator for up to 1 week.
Notes
Freezing Instructions: Plain or frosted sugar cookies freeze well up to 3 months. Thaw in the refrigerator or at room temperature. You can also freeze the cookie dough for up to 3 months before rolling it out. Prepare the dough through step 3, divide in half, flatten both halves into a disk as we do with pie crust, wrap each in plastic wrap, and then freeze. To thaw, thaw the disks in the refrigerator and then bring to room temperature for about 1 hour. Roll out the dough as directed in step 4 and then chill rolled out dough in the refrigerator for 45 minutes – 1 hour before cutting into shapes and baking.
Room Temperature: Room temperature butter is essential. If the dough is too sticky, your butter may have been too soft. Room temperature butter is actually cool to the touch. You can read more about it in this post. Room temperature egg is preferred so it's quickly and evenly mixed into the cookie dough.
Vanilla Bean: This recipe calls for the seeds from 1 whole vanilla bean in the cookie dough and from 1/2 of a vanilla bean in the frosting. (For extra flavor, feel free to use 1 whole bean in the frosting too.) To get the seeds out of a vanilla bean, use a small knife to cut the vanilla bean lengthwise and then use the dull side of the knife to scrape out the vanilla seeds.
Using Vanilla Bean Paste Instead: If you have vanilla bean paste, you can use that instead of vanilla bean. Add 1 teaspoon vanilla bean paste when you add the vanilla extract. If you want to replace the vanilla extract AND vanilla bean with vanilla bean paste, add 1 Tablespoon paste when you would add the vanilla extract.
Can I Tint the Cookie Dough? If you want to skip the icing but are still itching for a green or other colored dessert, you can add a couple drops of gel food coloring when you add the dry ingredients/flour mixture.
Special Tools: Rolling Pin, Cookie Cutters (I use the small & medium from this shamrock cookie cutter set), Parchment Paper (I like these sheets) or Silicone Baking Mats, optional Gel Food Coloring such as Americolor Leaf Green, Buttercream Piping Tip such as Ateco 30 (what I used in pictured cookies) or Wilton 30, Disposable Piping Bags or Reusable Piping Bags