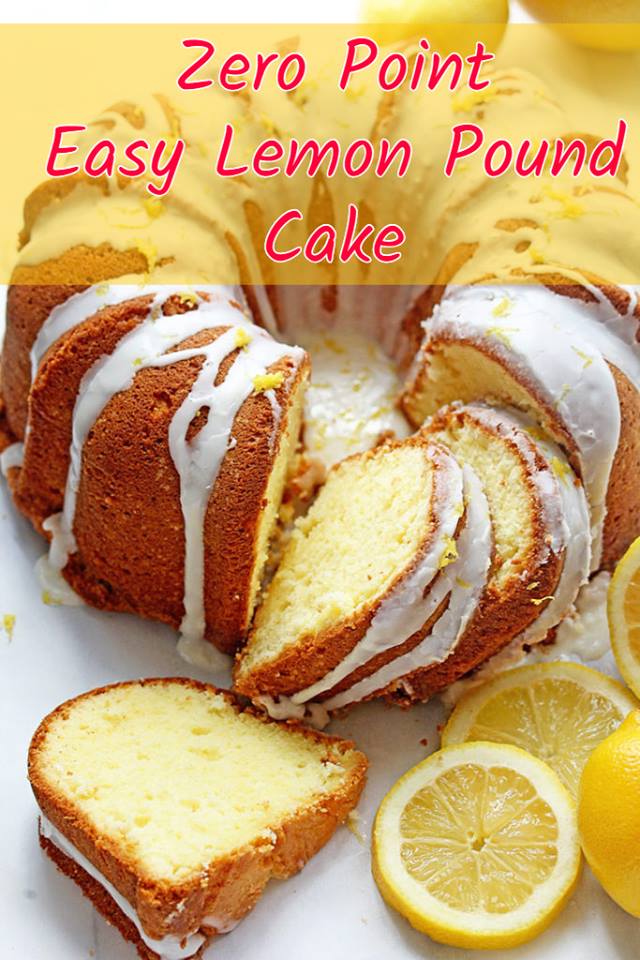 "You might be shaking your head saying "No Way! Pound cake?" We thought the same, but here it is. You are going to feel as if you are blowing your diet when you bite into this one, but cut into 18 servings, it is zero points."
With this recipe, you really can have your cake and eat it, too. With just 8 ingredients, this recipe won't take you any time or much effort at all to bake.
This Lemon Pound Cake is a dream dessert for lemon lovers! Made with lemon juice, lemon zest, and topped with a lemon buttermilk glaze, this lemon pound cake recipe is scrumptious!
A  sweet and slightly tart flavor greets your tastebuds first as you take a bite. That's immediately followed by the delicious taste of fresh lemon in the soft pound cake. Lemon is part of this cake in a juicy and scrumptious way in this homemade Lemon Pound Cake recipe!
The burst of lemon flavor coupled with the sweet deliciousness of the pound cake really does make each bite perfection.
LEMON POUND CAKE RECIPE
I must admit that many of the lemon pound cakes I had at reunions and church functions when I was growing up never interested me. There was just something about them that didn't appeal to me.
But then, I reworked a favorite pound cake recipe of my family's and now, I'm addicted to thisLemon Pound Cake.
Not too sweet, not too tart, but just right. It's the Goldilocks of lemon pound cakes and I think it's perfection!
PERFECT FOR SPRING AND SUMMER ENTERTAINING
This will really be a popular cake throughout your spring and summer entertaining. You can easily make this pound cake ahead of time and then serve to friends and family as dessert.
I love to serve it at a BBQ, at family reunions, showers, and of course after a big Sunday supper. Oh, and for Mother's Day? Seriously, yes!
INGREDIENTS:
CLICK NEXT PAGE BELOW TO CONTINUE READING …