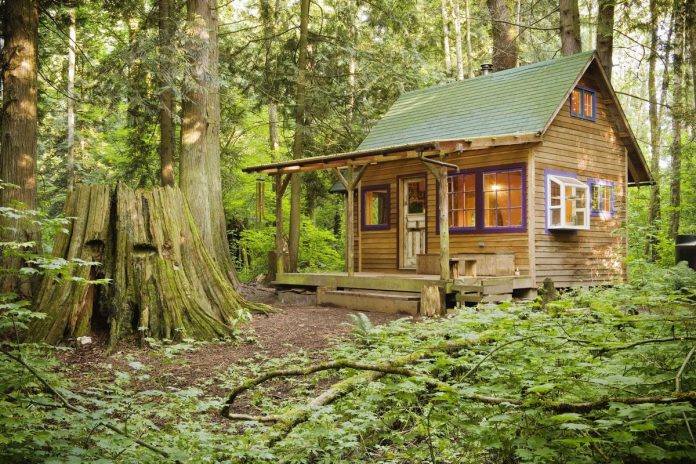 You want to make your dream of living in the woods a reality as soon as possible.
According to a new study published in Environmental Health Perspectives, American women who live in homes surrounded by more vegetation have significantly lower mortality rates than those who live in less green areas.
Researchers from the Harvard T.H. Chan School of Public Health and Brigham and Women's Hospital used data from 108,630 women who participated in the National Nurses' Health Study between 2000 and 2008 to compare the risk of death among women and the level of vegetation around their homes (in different seasons and different years based on satellite imagery) were compared.
The results showed that women living in the greenest environments had a 12% lower total mortality rate than women living in the least green areas. This association was strongest for deaths related to cancer and respiratory diseases. Women living in areas with more vegetation had a 34% lower respiratory-related mortality rate and a 13% lower cancer mortality rate than women living in areas with less vegetation around their homes.
So what is the relationship between greenery and mortality? Of course, women who live in green, natural environments do not suffer from all the negative health effects of air pollution, noise, and extreme heat, but researchers also speculate that areas with more vegetation also offer more opportunities for physical activity and social interaction, which results in lower stress levels. In fact, the study's authors estimate that improved mental health, as measured by lower levels of depression, explains nearly 30% of the benefits of living around more trees.
"It was surprising to observe such a strong association between increased exposure to greenery and lower mortality," said Peter James, associate research scientist in the Department of Epidemiology at Harvard University's Chan School of Medicine." We were further surprised to find evidence that a large portion of the benefits of high levels of plants seem to be associated with improved mental health."
In anticipation of Arbor Day on April 29, we thought these findings would be a good excuse to get out and plant some trees.
This time, researchers in Boston, Massachusetts, prospectively examined the association between residential greening and mortality. This is the first study of its kind that does not rely on aggregate data. As a result, inferences about the impact of greening on individual health are stronger than in previous studies.
Scientists from the Harvard Chan School of Public Health and Brigham and Women's Hospital supplemented data from 108,630 women who participated in the 2000 and 2008 National Nurses' Health Surveys (see below) with satellite images to estimate seasonal greening around each participant's address.
The results showed a 12% reduction in mortality for women living within 250 meters of nature. The results were also consistent within 1250 meters.
Even more interestingly, the association between mortality and green was strongest for respiratory health problems and cancer. Respiratory and cancer-related deaths were reduced by 34% and 13%, respectively.
The conclusion is that the more lush vegetation, the lower the mortality rate. Thus, any policy that tends to increase vegetation is likely to provide opportunities for physical activity, reduce harmful exposure, increase social participation, and improve mental health.
For example, in Norway (ranked 15th in WHO's life expectancy rankings), people know how to surround their homes naturally (see first photo above text).