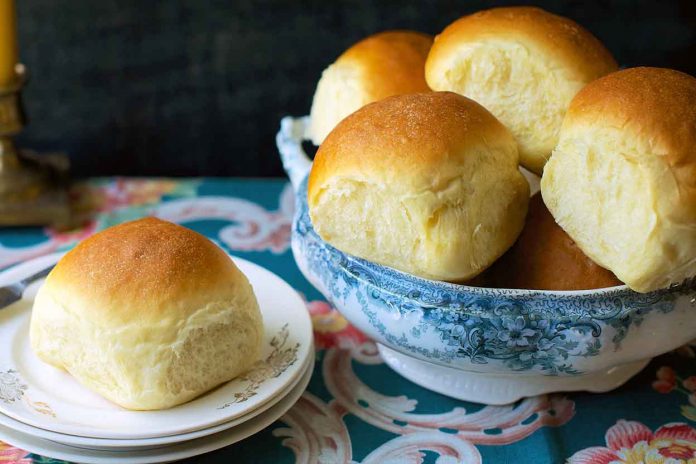 Old fashioned homemade yeast rolls recipe from scratch.
How to make quick crescent rolls with Rapid Rise Yeast.
The aroma of these homemade rolls will keep family hanging around the kitchen, the most popular room in the home.
Top with Sesame or Poppy Seed before baking, if desired.
Slather them with butter, let them dissolve in your mouth, and you will know the time that it took to make them was a wise choice.
Crescent Rolls Recipe
2 packages Rapid Rise (instant) rising yeast
4 1/4 cups sifted bread flour
1 cup milk
1/3 cup sugar
1/2 teaspoon salt
1 stick butter
1 large egg
extra melted butter
Mix yeast and 3 3/4 cups of the flour in a large mixing bowl. Set aside. Reserve 1/2 cup flour for later use.
Stir milk, sugar and salt in a saucepan until sugar is dissolved.
Add butter and heat on medium heat until butter is melted. (This can be heated in a microwaveable dish about 50 seconds.)
Add warm liquid (temperature should be 120-130F.) to flour in mixing bowl.
Add egg. Beat mixture on medium speed for 30 seconds. Scrape down sides and beat another 30 seconds.
Sprinkle part of the reserved flour on pastry cloth or cutting board.
Place dough ball in the center and knead it for 8-10 minutes.
As your dough becomes sticky while kneading, work in the reserved flour, until it is all used up and dough is smooth and elastic.
Place in a lightly greased bowl, cover and let rest 10 minutes.
Divide dough into 3 equal parts.
Roll each one on a lightly floured pastry cloth or board into a 10-12 inch circle.
Brush top with melted butter.
Cut circle into 8 pie shaped wedges.
Starting with the outer edge of the wedges, roll them up towards the center, curving the ends slightly to create a half- moon shape.
Place crescents on a buttered cookie sheet. Let rise in a warm, draft-free place until double in bulk. Usually takes 40-50 minutes.
Brush tops with softened butter.
Bake in a preheated oven 350F. 12-15 minutes until light golden brown. DO NOT OVER BAKE!
These Yeast Rolls will remain fresh by putting in zip lock bags and refrigerating a few days. They can also be frozen.
Makes 2 dozen.
Poppy Seeds or Sesame Seeds Yeast Rolls
After placing rolls on a cookie sheet to rise, brush tops and sprinkle with poppy seed or sesame seeds and let rise.
Cook according to direction.