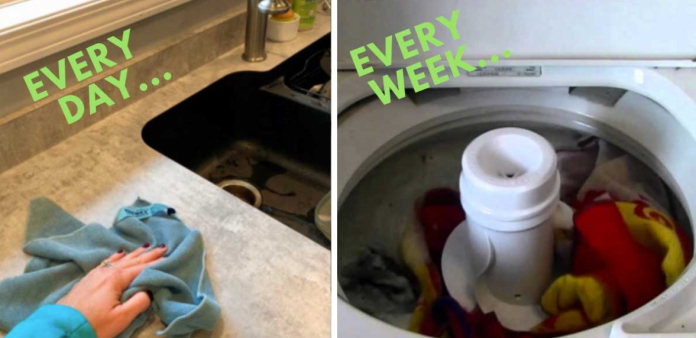 don't think that anyone particularly loves cleaning their house, but unfortunately, it's a necessity. With the hectic nature of life, it can be easy to let our chores slide. And before we know it, our homes are a complete disaster. However, if you stick to this simple household chore schedule, you'll never have to be overwhelmed by the thought of a whole-house cleaning.
Every day, you should…
Do the dishes or load/unload the dishwasher
Wipe down kitchen counters
Wipe down bathroom counters
Sweep or vacuum kitchen floors
Make your bed
Arrange living room throw pillows, etc.
Every week, you should…
Vacuum the entire house
Mop/clean all floors
Sanitize bathroom counters/surfaces
Clean toilets
Wipe down kitchen appliances
Wash your bedding and towels
Windex mirrors and glass
Do laundry (for some households, this might happen more like every day)
Every month, you should…
Vacuum hard-to-reach places
Wipe down baseboards
Dust and clean light fixtures/ceiling fans
Every few months, you should…
Vacuum and deodorize mattresses
Vacuum underneath and behind all pieces of furniture
Wash shower curtains and liners
Clean out (including wiping down) fridge and freezer
Clean oven (self-cleaning mode will do)
Every year, you should…
Clean all drapes/curtains
Get all carpeting professionally cleaned or rent a steam cleaner
Clean exterior windows
Clear out eavestroughs
Have the fireplace and chimney professionally cleaned (unless you feel confident doing so)
If you complete these tasks according to this general schedule, cleaning and maintaining your home will feel a lot less stressful. If you have a partner and children, assign each person in your household a task so that everyone pitches in. Having a clean and tidy home can be easy if you take on your chores in a realistic, efficient fashion.