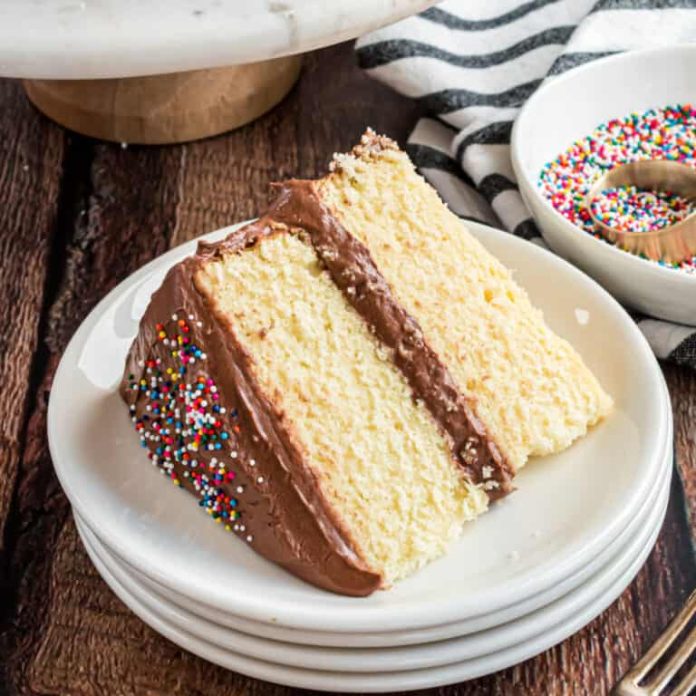 Prep Time : 10 minutes
Cook Time : 35 minutes
Total Time : 45 minutes
Skip the cake mix. Make a perfect Yellow Cake with Double Fudge Frosting from scratch instead! This version of the birthday cake favorite is 100% homemade. Tender, moist crumb with loads of fudgy frosting.
Ingredients
For the cake:
¾ cup unsalted butter, softened
2 cups granulated sugar
2 teaspoons vanilla extract
3 large eggs plus 1 egg yolk
½ cup sour cream
1 ¾ cup all-purpose flour
1 ¾ cup cake flour
1 Tablespoon baking powder
½ teaspoon kosher salt
1 ½ cups buttermilk
For the frosting:
1 cup milk chocolate morsels
¼ cup unsalted butter
¾ cup sour cream
¼ cup dark chocolate unsweetened cocoa powder
pinch of kosher salt
3 cups powdered sugar
1 teaspoon vanilla extract
Sprinkles, optional
Instructions
For the Cake, beat butter for 2 minutes. Add sugar and vanilla, continue beating with electric mixer. Add eggs and extra egg yolk, beating well after each addition. Beat in the sour cream.
Combine the flours, baking powder and salt in a small bowl using a whisk. Add to mixing bowl, alternating with the buttermilk. Beat 2 minutes after all is added.
Pour cake batter into two greased and floured 9-inch cake pans (make sure they have 2 inch sides). Bake in a 350 degree oven for 35-38 minutes. Remove and cool completely.
For the frosting, add milk chocolate morsels and butter into a small microwave safe bowl. Microwave for 30 seconds, mix and continue heating in 30 second increments (mine took one minute). Be sure to whisk the butter into the melted chocolate completely.
In a large mixing bowl, combine sour cream, dark cocoa powder, salt and melted chocolate mixture. Mix until blended. Add powdered sugar and vanilla, beat for 3-5 minutes until well blended and fluffy.
To assemble cake, lay one layer of cake on a cake platter. Spread frosting over the top. Add second layer of cake. Spread frosting over sides and top of cake.
Add sprinkles for decoration. ENJOY.
Notes
To make a crumb coating with the frosting, spread a very thin layer of frosting over the cake. Refrigerate for 10 minutes. Add final layer of frosting and enjoy.
To make cupcakes, line a cupcake tin with paper liners. Scoop batter into cupcakes until ⅔ full (makes 24 cupcakes). Bake for about 15-17 minutes. Cool before frosting.
Add colorful sprinkles to the frosted cake for some festive flair.
Make sure to use cake pans with 2-inch sides.
Buttermilk: use store bought or use my homemade buttermilk substitute recipe.
Remember to grease and flour your cake pans. Or use my Homemade Cake Release!
Swap out the frosting recipe! Use our chocolate sour cream frosting or perfect chocolate buttercream frosting recipes instead if you prefer!
Storage: Keep cake in airtight cake saver at room temperature for up to 5 days. Or freeze for up to 3 months.
Nutrition Information:
Yield: 12Serving Size: 1 slice
Amount Per Serving:Calories: 700Total Fat: 28gSaturated Fat: 16gTrans Fat: 0gUnsaturated Fat: 9gCholesterol: 121mgSodium: 281mgCarbohydrates: 105gFiber: 2gSugar: 72gProtein: 8g