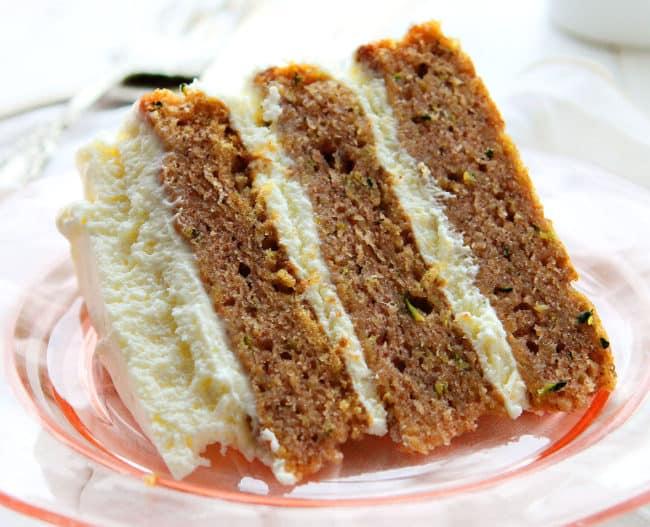 PREP TIME : 15 MIN
SCOOK TIME : 26 MINS
TOTAL TIME : 41 MINS
There is something utterly refreshing about walking out to the garden and choosing a vegetable that I can turn into a cake. So often when I think about cake and baking I think sugar, sweet, over-the-top decadence.
INGREDIENTS :
BANANA ZUCCCHINI CAKE
2 cups all purpose flour
1/2 teaspoon baking soda
1 teaspoon baking powder
2 teaspoon ground cinnamon
½ teaspoon salt
1 cup sugar
2 large eggs, room temperature
1 cup vegetable oil
2 teaspoons vanilla extract
2 ripe bananas
2 cups shredded zucchini drained
WHIPPED CREAM CHEESE
8 ounces (1 package) cream cheese, room temperature
1 cup white granulated sugar
1/8 teaspoon table salt
1 teaspoon vanilla extract
1 1/2 cups cold heavy whipping cream
STRUCTIONSFOR THE CAKE
Heat oven to 350 and prepare three 8-inch round cake pans.
In a large bowl sift together the flour, baking soda, baking powder, cinnamon, and salt.
In a stand mixer on low speed add in the sugar, eggs, oil, vanilla, and banana. Mix on medium speed for about 1 minute, or until fully combined.
One cup at a time add the flour mixture into the sugar mixture. Mix until just incorporated and remove bowl from mixer.
Stir in the drained and shredded zucchini.
*I prefer to not peel the green skin off on my zucchini, but you certainly can. If you have a very large zucchini, remove any seeds prior to grating.
Bake for 22-26 minutes, or until inserted toothpick is removed mostly clean.
CLICK NEXT PAGE BELOW TO CONTINUE READING …