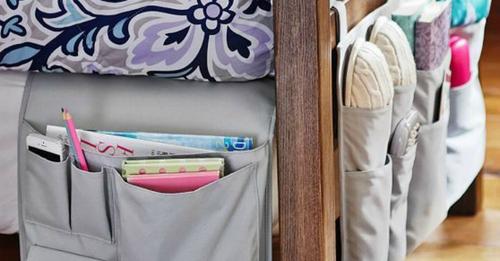 Coming from someone who has shared a space of about 100 feet with her younger sister for 15 years, I understand the small room problem. Things get cluttered and lost, and you feel like you have no way to organize your incredibly small space. For those of you who know what it's like to live in a small bedroom, check out these 10 helpful organization tips and tricks perfect for making your space a little more enjoyable.
1. Hidden Power Strip
Power strips, as essential as they are for our millions of gadgets, are not only ugly but cause major clutter. Storing a power strip in a bedside drawer creates the perfect space for a hidden and organized charging station.
2. Door Storage
You might not consider it necessarily, but your door is a blank space just waiting to be utilized! Use magnetic strips, cork boards or hooks to hang up jackets or accessories in style.
3. Rolled Shirts
T-shirts can make for messy drawers (especially when you have as many as I do). To make things more organized, roll t-shirts instead of folding them. This makes shirts easier to find and makes drawers easy to navigate.
4. Clothes Separator
For thinner clothing – like tights and underwear – clothes separators are the best trick.
5. Bedside Ledge
No space for a bedside table? A little shelf is easy to put in and perfect for your favorite book, your phone and a cup of tea.
6. Jewelry Organization
If you've got an overload of accessories, collect some pretty bowls and separate your jewels accordingly!
7. Overhead Lighting
I love this trick. Use glue or hanging strips to put some light on your overhead shelving. No need for lamps or getting out of bed constantly to turn the light on and off!
8. DIY Board
This adorable memory board is a quick and easy DIY for important reminders or even pictures of family and friends.
9 . DIY Corner Shelf
These folder holders can be found (for pretty cheap, too) at many office supply stores. Paint one your favorite color and nail it into your wall for some easy corner shelving!
10. Under Bed Storage
Under bed storage and so much easier than you'd think! No need for ten plastic bins all crammed in one space. These cheap shelf units can be flipped over and used for cute, simple storage.
Did you find these tricks helpful?
Do you have any small bedroom organizational tricks that you use?
Share your thoughts in the comment