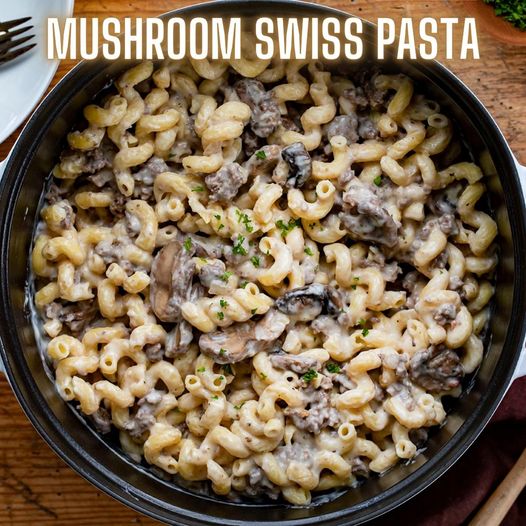 Swiss Pasta with Mushrooms is a delicious pasta dish made with ground beef, sautéed mushrooms and a homemade cheese sauce. Your mouth will water when you try this unique and delicious recipe!
PREP TIME : 15 MINS
COOK TIME : 20 MINS
TOTAL TIME : 35 MINS
Ingredients
Noodles
▢1 box (16 ounces) Cavatappi noodles
Mushrooms
▢2 tablespoons unsalted butter
▢½ teaspoon kosher salt
▢4 cups button mushrooms, thinly sliced
Hamburger
▢½ cup yellow onion, diced (about ½ a medium yellow onion)
▢1 teaspoon garlic, minced
▢1½ pounds ground beef
▢½ teaspoon Worcestershire sauce
▢1 teaspoon seasoned salt
▢1 tablespoon hamburger seasoning
Cheese Sauce
▢½ cup (1 stick / 113 g) unsalted butter
▢½ cup (62.5 g) all-purpose flour
▢3 cups (735 g) whole milk, room temperature
▢2 teaspoons kosher salt
▢½ teaspoon garlic powder
▢1 cup (113 g) Swiss cheese, shredded
▢½ cup (56.5 g) mozzarella cheese, shredded
▢salt and pepper, to taste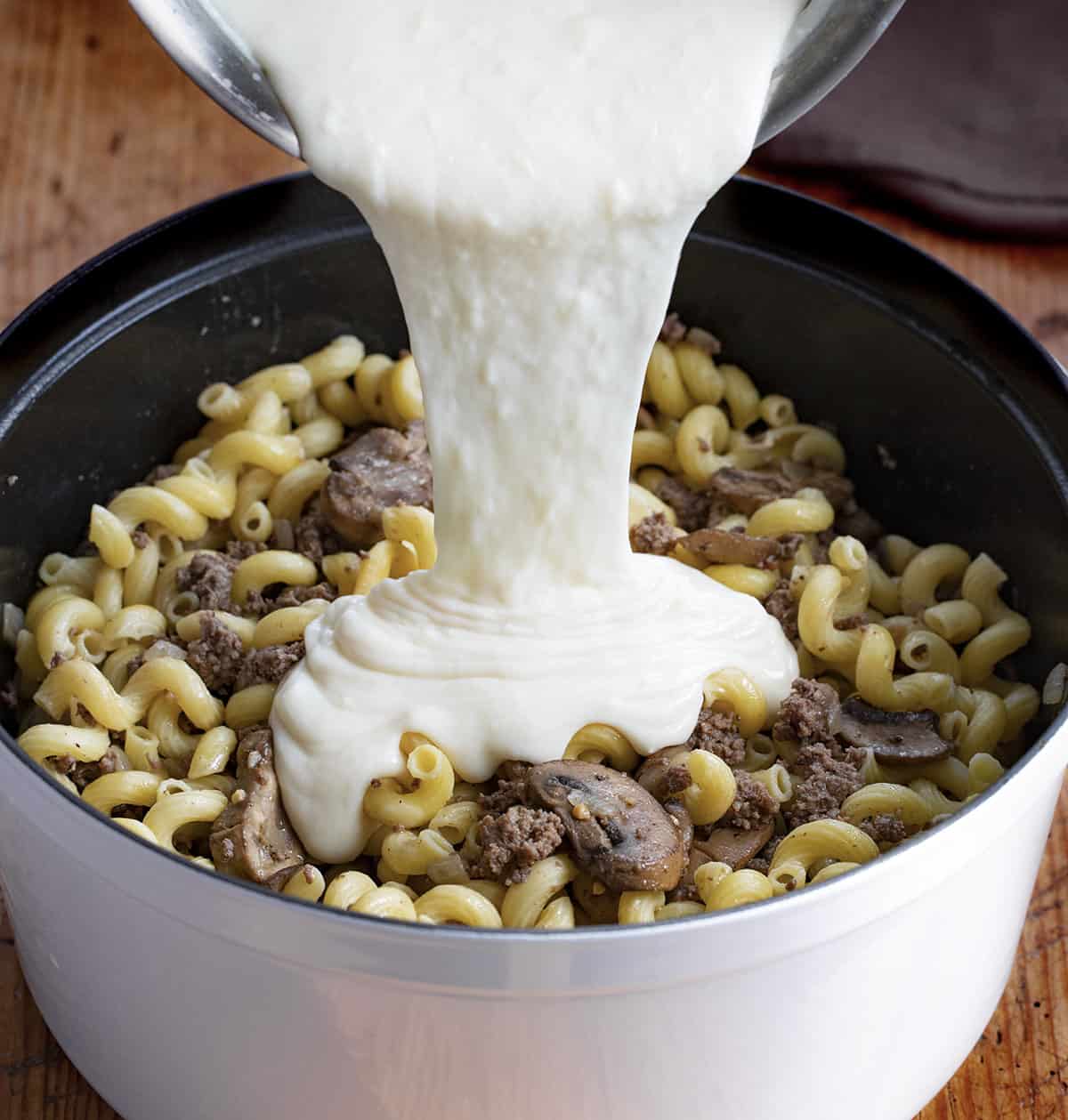 Instructions
Noodles
In a large pot of salted water, cook noodles al dente according to package instructions (about 9 minutes). While the pasta is cooking, prepare the mushrooms. Drain noodles when done; set aside.
Mushrooms
In a large skillet over medium heat, melt the butter and salt. Add the mushrooms and cook for 8-10 minutes, or until tender and slightly browned.
Use a slotted spoon to transfer the mushrooms to a small bowl. Tent to keep warm as you cook the ground beef.
Hamburger
To the same skillet you cooked the mushrooms, add the onions and garlic. Cook for 3-5 minutes, or until the onions are softened.
Add the ground beef, Worcestershire sauce, seasoned salt, and hamburger seasoning to the skillet. Cook for 8-10 minutes, or until the ground beef is no longer pink. (This would be a good time to make the cheese sauce.) When the ground beef is done cooking, drain any excess grease.
Stir in cooked mushrooms. Remove from heat and set mixture aside.
Cheese Sauce
In a saucepan over medium heat, melt the butter. Add the flour and whisk constantly for 1-2 minutes, or until slightly browned.
Remove from heat and gradually pour in the milk, whisking constantly. Return the pan to the heat and whisk for another 3-5 minutes, or until the mixture has thickened.
Add the salt and garlic powder. Stir to combine. Again, remove from heat. Add the cheeses, stirring to melt.
Assembly
To the large pot of noodles, add the hamburger mixture. Stir to combine. Pour the cheese sauce over the pasta and stir to combine. Salt and pepper to taste. Serve immediately.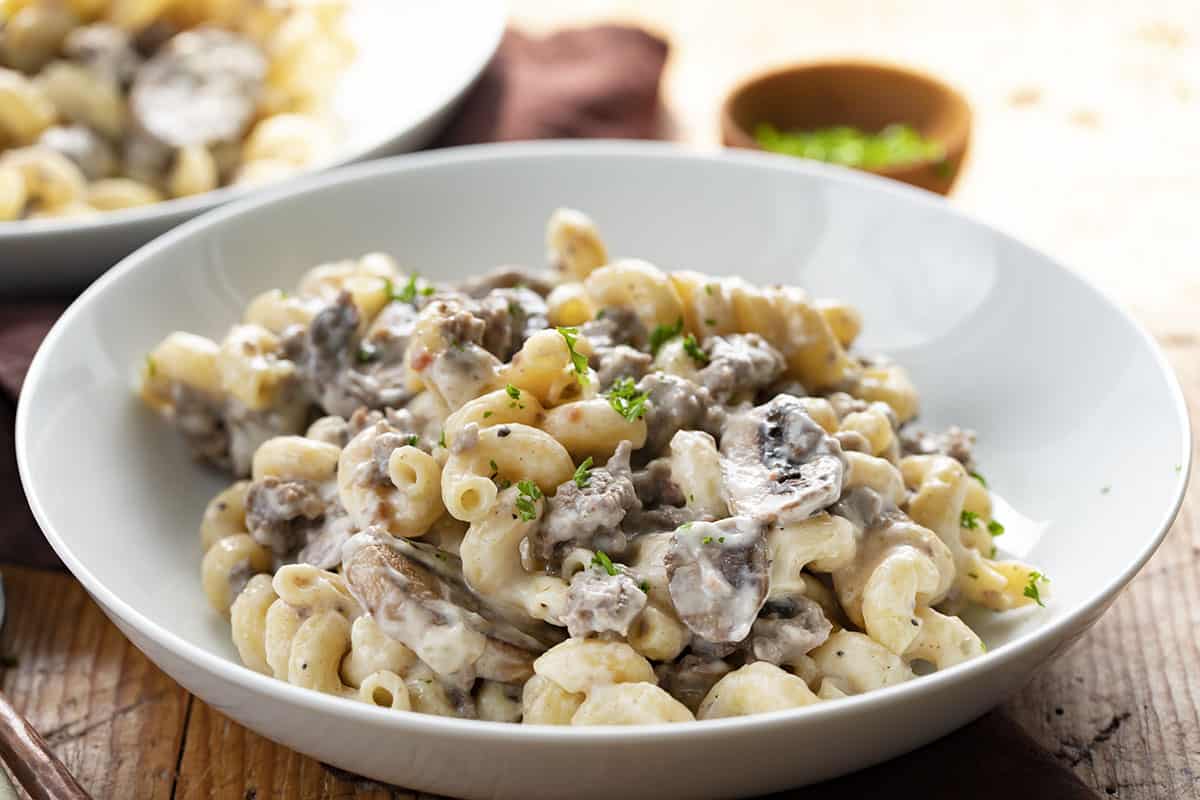 Nutrition
Course: Main Course
Keyword: Mushroom Swiss Cheeseburger Pasta
Servings: 8
Calories: 771