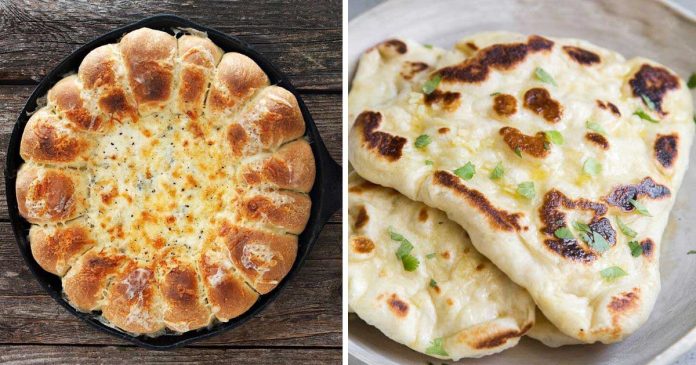 I don't know about you, but I can see myself making a lot of bread in the near future. And why not! Bread is extremely easy and cheap to make, and there are so many different recipes to choose from. I've rounded up 11 of the best recipes to share with you today – happy baking!
1. Irish Soda Bread
Let's start this list off with a classic – Irish soda bread! This simple recipe is slightly sweet, and is best served warm with some butter.
2. Skillet Corn Bread
Corn bread is definitely at the top of my list when it comes to the bread family. Serve this recipe with fried chicken and green beans, and you've got yourself the perfect meal.
3. Italian Herb Skillet Bread
I can pretty much taste the butter and garlic just by looking at this recipe's photo. Is anyone else drooling?
4. Warm Skillet Bread & Artichoke Spinach Dip
This recipe involves warm bread and delicious dip together in one skillet. Need I say more?
5. Skillet Focaccia Bread
This focaccia recipe is slightly crispy on the outside, and soft on the inside. Focaccia is a great bread to serve sandwiches on.
6. Naan
Naan is so simple and cheap to make. Serve it with curry for a warm and delicious dinner!
7. Cinnamon Swirl Bread
This cinnamon swirl bread is filled with fresh berries and drizzled with a sweet maple glaze. What a perfect Sunday morning breakfast idea!
8. Skillet Banana Nut Bread
On the topic of sweet bread recipes, who doesn't love a good banana bread recipe?!
9. Skillet Butter Pecan French Toast Bake
This french toast recipe looks extremely decadent, and that's the kind of recipe I want in my life right now.
10. Cast Iron Skillet Biscuits
Biscuits are truly good with every meal. Serve with eggs and sausage for breakfast. Use them for mini burgers for lunch. And serve them with chili or a roast for dinner. This recipe is bound to get a lot of use.
11. Cherry Cheesecake Monkey Bread
Fluffy white bread stuffed with cream cheese and cherry pie filling? Yup, I guess I now have to make this recipe tonight.
Now that you're equipped with 11 new bread recipes, you won't have to worry about scouring the supermarkets near you for the last remaining bread products. Remember, we are all equipped with more skills to get by than we may realize. Happy bread baking!