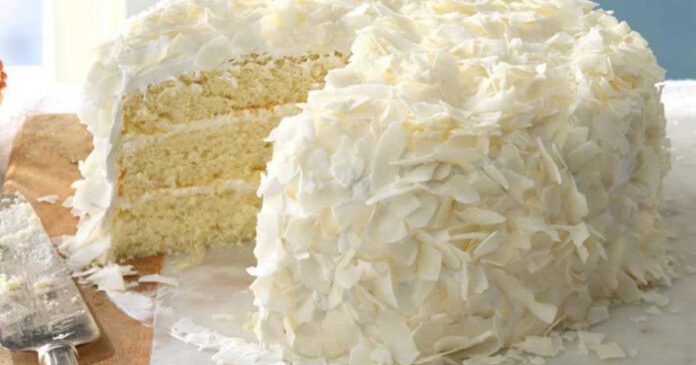 Coconut seems to be one of those flavors that you either love or hate. Personally, I love coconut and never miss the opportunity to try a new coconut dessert. If you are a coconut lover, you will love the recipe I am going to share with you today. Taste of Home has created a coconut cake recipe that is light, fluffy and the perfect dessert to serve for any special occasion.
When I think of coconut, I tend to think of spring and summer. That's why coconut cake is a great treat to whip up for Easter or any family gatherings going on during the warm weather months. Because there are so many other sweet ingredients in this recipe, just be sure to use unsweetened coconut instead of sweetened coconut. You can find unsweetened coconut flakes in the baking section of any grocery or food store.
Not much of a baker? Don't be intimidated by this recipe. It doesn't require any fancy ingredients or cooking accessories, and it's pretty simple to make. Feeling adventurous? Top this cake with lemon or raspberry icing. As all coconut-lovers knows, lemon and raspberry are two flavors that go perfectly with coconut.
Ingredients
4 large egg whites
3/4 cup butter, softened
1-1/2 cups sugar, divided
1 teaspoon almond extract
1 teaspoon vanilla extract
2-3/4 cups cake flour
4 teaspoons baking powder
3/4 teaspoon salt
1 cup whole milk
frosting:
5 large egg whites
1-2/3 cups sugar
1 tablespoon water
1/2 teaspoon cream of tartar
1 teaspoon vanilla extract
2-1/2 cups unsweetened coconut flakes
Colored sprinkles, optional
Directions
Place 4 egg whites in a large bowl; let stand at room temperature 30 minutes. Line bottoms of 3 greased 9-in. round baking pans with parchment; grease parchment. Preheat oven to 350°.
Cream butter and 1 cup sugar until light and fluffy, 5-7 minutes; beat in extracts. In another bowl, whisk together flour, baking powder and salt; add to creamed mixture alternately with milk.
With clean beaters, beat the 4 egg whites on medium speed until soft peaks form. Gradually add remaining 1/2 cup sugar, 1 tablespoon at a time, beating on high after each addition until sugar is dissolved. Continue beating until stiff glossy peaks form. Fold into batter.
Transfer to prepared pans. Bake until a toothpick inserted in center comes out clean, 13-17 minutes. Cool in pans 10 minutes before removing to wire racks; remove paper. Cool completely.
For frosting, in a large heatproof bowl, whisk 5 egg whites, sugar, water and cream of tartar until blended. Place over simmering water in a large saucepan over medium heat; whisking constantly, heat mixture until a thermometer reads 160°, 2-3 minutes. Remove from heat; add vanilla. Beat on high speed until stiff glossy peaks form, about 7 minutes.
Spread between layers and over top and sides of cake. Cover with coconut. If desired, decorate with sprinkles. Store, uncovered, in refrigerator.
Nutrition Facts
1 piece: 400 calories, 16g fat (11g saturated fat), 24mg cholesterol, 341mg sodium, 62g carbohydrate (41g sugars, 2g fiber), 5g protein.