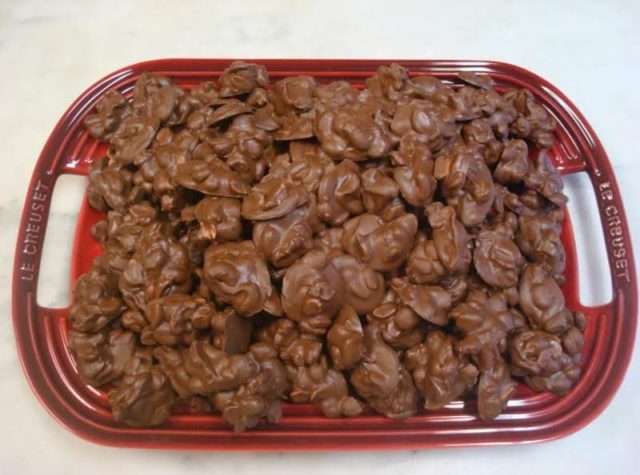 "There's nothing as cozy as a piece of candy and a book."
― Betty MacDonald
I bet holidays are coming, and of course you're looking for a good candy recipe to enjoy holiday nights with your family. Well, you came to the right place, look no further!
Crockpot candy recipe would blow your mind of its sweetness and delicacy! Easy to make and doesn't require much efforts and ingredients. Only a crockpot and so much chocolate!
"The next morning dawned bright and sweet, like crockpot candy."
― Sarah Addison
How to section
Ready to take the journey? Me too partner! Wear your apron and get your crockpot ready to work.
Why using a crockpot?
Actually, you can use a microwave instead of a slow cooker to melt things together; but a crockpot is better!
Use what you're comfortable at, our tips and utensils can change (you can even make your own recipe with your own rules).
In case you decided to use a crockpot for this recipe, I advise you to use 6 quarts Multicooker, it has the perfect size and it works just fine as a pressure cooker too.
Simple Steps:
In a slow cooker, add white almond bark, German chocolate bar, peanuts and semisweet chocolate chips.
Without mixing, let it cook for an hour (set your crock pot on low).
When all is set, combine everything together with a wooden spoon.
Cook for an extra 1 hour while stirring.
Use a spoonful of the candy mixture to drop onto wax paper.
Cool before serving!
Ingredients
4 ounces of German chocolate bar
2 pounds of white almond bark
2 ounces bag id semisweet chocolate chips
24 ounces of dry roasted peanuts
Sprinkles
Sea salt
Having problems with your candy?
Well, if your candy isn't setting up, refrigerate the mixture for some time and you're all set.
CROCK POT CANDY RECIPE
Prep time: 5 minutes
Baking time: 2 hours
Total time: 2 hours 5 minutes
Servings: 75 candies
I believe those candies taste great, aren't they? In fact, what are holidays without a bunch of homemade candies and funny moments!
Important notes:
Almond bark can be replaced with a mixture of white chocolate and 1 tablespoon of shortening.
Crockpot candy can last up to 3 weeks (make sure to keep them in a dark place in an airtight container).
In case you had so much pieces, freeze them! It'll stay up to a year in the freezer.
Since you're using only 4 ingredients, use an interesting amount of them!
For better results, add peanuts at the end (peanuts don't require much time in the crockpot).
If possible, refrigerate the candies (on the baking sheets) for an hour or so, until hard.
Serving Ideas
There is nothing better than eating candy, it makes the soul happy more than anything!
As for the serving, you can keep it simple and serve it along with big glasses of milkshakes!
Other Famous Homemade Candies
Salted Chocolate Halva
Grapefruit Bars with Candied Zest
Apple Caramels
Nutty Chocolate Toffee Bark
Chocolate-Peppermint Fudge
HOW TO MAKE IT :  
CLICK NEXT PAGE BELOW TO CONTINUE READING …