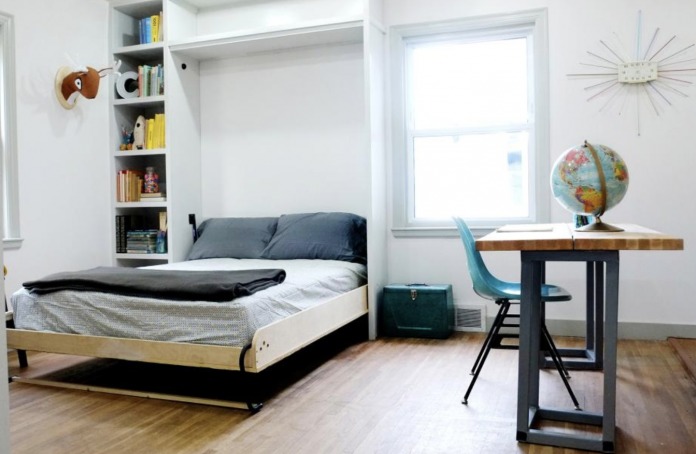 Despite the fact that you aren't living in a small home, you maybe  experience you feeling like you don't have much storage space left. But guess what, you only need to see things differently and be a bit creative
In this article, you're going to find some incredibly clever hacks and tips for making the most out of your small space. If your house lacks storage stage, these tips were meant for you! Learn how to make the most out of even tiny spaces.
1. Embrace your radiator
Radiators can be a drag if you leave them as-is. They take up an awkward amount of space and are just kind of there. Instead of just dealing with your radiator, use it to your advantage by creating a shelf above it.
2. Hide your jewels 
Jewelry can be a pain to organize, and it can take up a lot of valuable dressers top real estate. We think you'll like this super clever way to store your jewelry that literally takes no space at all. This DIY tutorial from A Beautiful Mess shows you exactly all the steps you'll need to transform a full-length mirror into a super useful jewelry storage cabinet.
3. Turn your storage into a usable piece of furniture
This desk was actually created by putting together two storage shelves. Now your storage space can double as a workspace.
4. Ditch your floor lamps
Floor lamps actually have a bigger footprint than you may think. Plus, they can create an awkward space to work around. Instead, light from above to save room in a small space. Follow this tutorial from Sugar and Cloth to create your very own metallic pendant sconce.
5. Hidden storage
When it comes to storage, think beyond closets and drawers. This DIY tutorial from Ikea Hackers shows you how to create a coffee table that doubles as a storage space.
6. Chop an end table in half
Do you have a narrow hallway where you'd like to have an end table, but darn it, there's just not enough space? Consider cutting it in half and attaching it to the wall to create your very own space-saving end table that is as unique as it is functional.
7. Take advantage of under the bed space
The space under your bed is good for more than just dust bunnies! Use every single square inch to store things that you don't need to access daily but don't want to throw out. It can also be a great storage spot for your extra toiletries and backup toilet paper.
8. Utilize behind the door space
Any door can be turned into an insane amount of storage with minimal effort. Behind the door, shoe racks work wonderfully for much more than just shoes!
9. Don't forget your corners
Corners of rooms are not often used to their full advantage. Turn the dark corners of your home into useful storage by adding shelves.
10. Hide your toothbrush
If your bathroom is tiny, this clever hack is a great way to store your toothbrushes. Simply cut out holes in your cupboard shelves, and you've got yourself a toothbrush holder without taking up any counter space.
11. Use forgotten spaces
In your kitchen, the sides of your cabinets are often forgotten. Install a few hooks and hang flat pieces like cutting boards, utensils or baking sheets. You've suddenly got an entire storage space that didn't exist before!
12. Hang your bags
Maximize the space under your sink by hanging your trash bags. No more bulk boxes that take up unnecessary space!
13. Think Thin
Sometimes you just don't have the space for a traditional cabinet. Take advantage of slim, vertical spaces by building storage that is higher than it is wide.
14. Float on
Floating shelves are a great way to make walls work for you. Not only do they add interest to an otherwise boring wall, but they can end up adding an incredible amount of storage space.