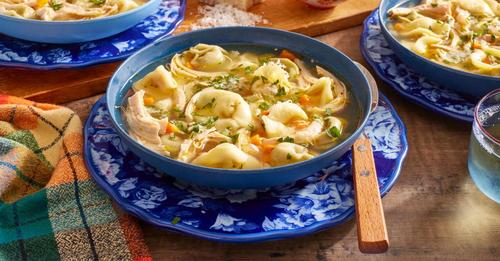 When you need a quick and heartwarming dinner in under 30 minutes, look no further than our delightful Creamy Chicken Tortellini Soup. This recipe offers the comforting essence of traditional chicken noodle soup but with a twist – luscious pockets of cream cheese-filled tortellini. It's a cozy weeknight meal that's ready before your garlic bread comes out of the oven!
What's the Perfect Tortellini for This Soup?
For the best experience, opt for refrigerated or frozen tortellini. These varieties are larger and come filled with delectable, fresh ingredients, enhancing the flavors of your soup.
No Need to Pre-Cook the Tortellini
The beauty of this recipe lies in the simplicity. You don't have to fuss with boiling tortellini in a separate pot. Instead, let them cook directly in the soup. In just a few minutes, they'll become tender and release starch, naturally thickening the soup. However, if you plan to prepare this soup in advance, it's best to cook the tortellini separately, as they can soak up too much liquid over time.
Selecting the Chicken
Rotisserie chicken is your best friend for convenience and flavor. You'll need about 3 ½ cups of shredded rotisserie chicken for this recipe. If you happen to have leftover turkey, it's a delicious alternative. Alternatively, if your family prefers white meat, go ahead and use boneless, skinless chicken breasts. Simply cut them into 1-inch pieces, season with salt and pepper, and sauté in butter until they're nicely browned (about 5 minutes). Remove the chicken, proceed with cooking the vegetables, and then reintroduce the chicken when you add the tortellini.
Creamy Chicken Tortellini Delight Recipe
Yields: 6 servings
Prep Time: 15 mins
Total Time: 30 mins
Ingredients:
2 tablespoons olive oil
1 medium yellow onion, finely chopped
3 medium carrots, peeled and sliced
3 stalks celery, thinly sliced
3 cloves garlic, finely minced
1 teaspoon kosher salt
½ teaspoon ground black pepper
½ teaspoon Italian seasoning
¼ teaspoon red pepper flakes
3 quarts chicken broth
3 ½ cups shredded rotisserie chicken
1 (20-ounce) package refrigerated cheese tortellini
¼ cup freshly chopped parsley
Grated Parmesan cheese, for serving
Directions:
In a medium Dutch oven over medium heat, warm up the olive oil. Add in the finely chopped onion, sliced carrots, and thinly sliced celery. Cook and stir occasionally until the veggies begin to soften, about 5-7 minutes. Then, toss in the minced garlic, salt, pepper, Italian seasoning, and red pepper flakes. Cook for an additional minute until the fragrant aroma fills your kitchen.
Pour in the chicken broth and bring it to a gentle boil. Now, introduce the shredded rotisserie chicken and the delightful cheese-filled tortellini. Simmer until the chicken is heated through, and the tortellini turn tender. This should take around 3 to 5 minutes. Sprinkle a generous handful of freshly chopped parsley for a burst of color and flavor.
Serve this Creamy Chicken Tortellini Delight piping hot, with grated Parmesan cheese on the side. Let the comforting aroma and creamy richness whisk you away to a cozy dining experience that's both quick and satisfying. Enjoy!
picture source : thepioneerwoman.com