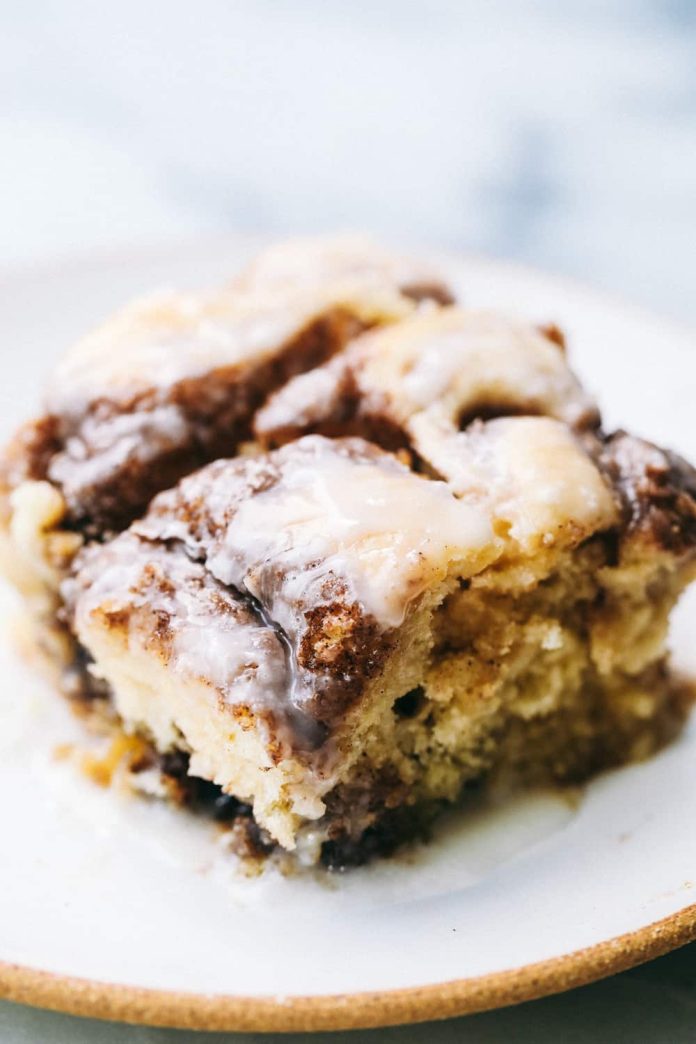 This delightful Cinnabon-inspired Cinnamon Roll Bliss Cake captures the scrumptious essence of homemade cinnamon rolls, but with a delightful twist that simplifies the process. Crafted from scratch, this soft and moist sponge cake is adorned with a luscious layer of cinnamon, butter, and brown sugar, all harmoniously crowned with a sweet, heavenly icing.
Ingredients:
For the Cake Base:
3 cups of all-purpose flour
1 ½ cups of milk
1 cup of granulated sugar
2 eggs
4 teaspoons of baking powder
2 teaspoons of pure vanilla extract
¼ teaspoon of salt
¼ cup of melted butter
For the Irresistible Top Layer:
1 cup of softened butter
1 cup of brown sugar
2 tablespoons of all-purpose flour
1 tablespoon of ground cinnamon
For the Enchanting Glaze:
2 cups of confectioners' sugar
5 tablespoons of milk
1 teaspoon of pure vanilla extract
Instructions:
Preheat your oven to 350 degrees F (175 degrees C) and generously grease a 9×13-inch baking pan.
In a spacious mixing bowl, combine 3 cups of flour, milk, granulated sugar, eggs, baking powder, 2 teaspoons of pure vanilla extract, and a pinch of salt. Stir this delightful concoction until it blends into a harmonious mixture. Now, gently fold in the melted ¼ cup of butter. Pour this batter into your prepared baking pan.
In another bowl, whip together 1 cup of softened butter, brown sugar, 2 tablespoons of flour, and the aromatic cinnamon. This will form a smooth, delectable topping. Carefully spoon this enticing mixture over the cake batter.
To create a mesmerizing marble effect, swirl the top layer into the bottom layer using a knife.
Slide your creation into the preheated oven and bake until a toothpick inserted into the center emerges almost clean, usually around 25 to 30 minutes.
While your cake basks in its oven spa, prepare the finishing touch. In a separate roomy bowl, whisk together 2 cups of confectioners' sugar, 5 tablespoons of milk, and 1 teaspoon of pure vanilla extract until it transforms into a silky glaze.
Once your cake has completed its time in the oven, and it's still warm, drizzle the enchanting glaze generously over the top.
Now, revel in the heavenly aroma and savor each mouthful of this Cinnamon Roll Bliss Cake, a delightful creation that elevates the classic cinnamon roll to new heights of culinary delight!
SOURCE : therecipecritic.com