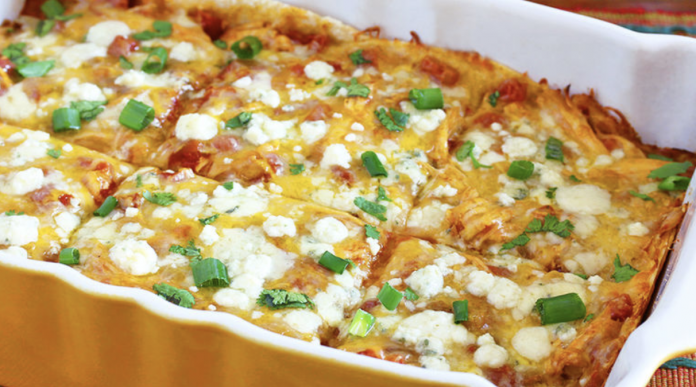 Casseroles are really underrated in cooking communities; people don't give them enough attention, maybe because they don't know how delicious they and how easy it is to make them. Casseroles are so delicious, nutritious and easy to make. These next casseroles are so delicious, and I'm sure that your whole family is going to love them.
1. Chicken Enchilada Casserole
Trust me when I say that the chicken enchilada casserole is going to be finished before you realize it, and if there are some leftovers (it is most likely but you never know), you can put them in your freezer to eat them another time.
2. Easy Chicken And Rice Casserole
This casserole does not take much time to prepare, it only takes 10 minutes. This dish is perfect if you are tired and desperately want to make a warm and delicious plate.
3. Ham And Veggie Casserole
If you have kids that refuse to eat vegetables, then cook this casserole for them, and they will devour it without noticing the vegetables in it, you'll be surprised, trust me!
4. Green Bean Casserole
This green bean casserole is going to make you wish to lose memory and taste eat it again for the first time ever.
5. Chicken Bacon Ranch Casserole
This casserole contains a lot, and I mean a lot of flavors like chicken, ranch, and bacon. Of course, there is a lot of vegetables in there too.
6. Mexican Beef And Rice Casserole
If you want to make a perfect Mexican meal, but you don't want to go to a Mexican restaurant, then this delicious casserole is just for you. And if there are leftovers, you can store them in your freezer.
7. Philly Cheese Steak Casserole
As you can see, the name of this casserole can make someone drool, now imagine eating it.
8. Tuna Noodle Casserole
I am sure that you haven't tasted anything like this before. This is a very delicious and nutritious meal that contains many flavors, and everyone is going to love it.
9. Hash Brown Breakfast Casserole
Do you have a day off and you want to make a comforting, warm and delicious breakfast? Then spoil yourself with the hash brown breakfast casserole.