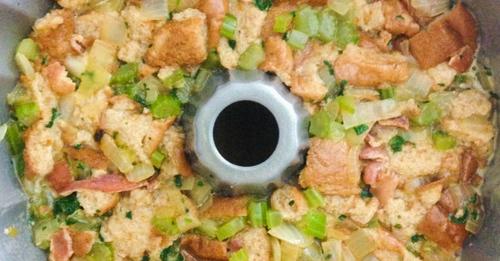 Thanksgiving is just around the corner and while everyone associates this holiday with turkey, we all know that the real star of the feast is stuffing. My family usually makes at least two different types of stuffing each year: a new one to try and an old favorite. That way, we're sure there's enough stuffing to, well, stuff every person who eats. In all my years of giving thanks, I never considered adding to my stuffing. After spending the summer baking almost everything I could in my muffin tin, I wondered if I could bake the stuffing in a way that made it more appealing to look at. Because don't get me wrong, we all love stuffing, but it's not exactly as gorgeous as pumpkin pie or as dazzling as a big roasted bird. That's when it hit me – I could use a bundt pan! And with that, my turkey day dilemma was solved.
You will need:
2 Tablespoons vegetable oil
3 stalks celery, chopped fine
2 medium onions, chopped fine
4 slices cooked bacon, crumbled
2 teaspoons garlic powder
salt and pepper to taste
2 cups turkey (or chicken) stock
4 eggs
1 cup parsley, minced
2 large loaves whole wheat bread, cut into cubes and left to dry out overnight (or baked in 200°F oven for 40 minutes)
Preheat oven to 400°F. Spray a bundt pan with non stick spray.
Place the vegetable oil in a large skillet on medium heat. Add the celery and onions and cook for 5 minutes, stirring frequently until the vegetables are softened. Add the bacon, garlic powder, and salt and pepper. Cook for another minute.
In a large bowl whisk together the turkey stock, eggs, and minced parsley. Add in the cubed dry bread and stir to combine. Add in the cooked vegetables and stir to mix everything together. Transfer this mixture to the bundt pan.
Bake, turning once halfway through for 45-55 minutes or until the top is golden brown and the stuffing has expanded. Allow to cool for 30 minutes before inverting on a plate and serving.