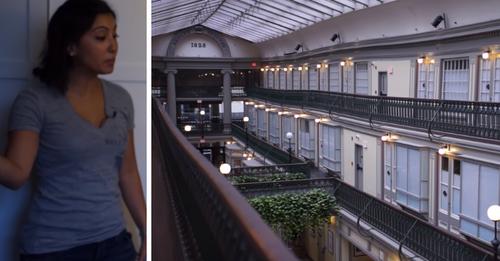 We've become increasingly aware of tiny homes in recent years, but most of the beautiful examples we've seen are freestanding units located outdoors. Micro lofts bring the concept indoors.
Providence, Rhode Island is one place where you'll find these tiny apartments on the rise. They are located in The Arcade, an architectural gem dating back to 1829 and the oldest indoor shopping center in America. The building itself has undergone several restorations and was designated a national monument in the 1970s.
The mall consists of three levels, with the second floor devoted to retail stores and the second and third floors being small lofts. Evan Granoff, the owner, wanted to convert the unused space into something livable and affordable.
The Arcade has 48 apartments, ranging in size from 225 to 800 square feet. Each apartment has basic built-in furnishings: a bed with drawers, a bench or upholstered seat, a refrigerator and shelves. Since the Arcade is a rooming house, stoves are not allowed, but microwaves are fine.
The larger apartments have a washer/dryer combo, but residents can do their laundry in the community room. As you can see in this video, the apartments are charming and small, but still have all the necessary comforts.
For Dr. Karim, having a small apartment like this suits his schedule and lifestyle. It's comfortable and homey, and it gives her the freedom of not having to maintain a larger space when she travels abroad. She doesn't mind the fact that there is no stove.
Since Sharon Kinnier only has to live in the city part-time, her apartment also suits her career and needs. Tenants can choose to pay for their own cable and Wi-Fi or watch TV in the common area. The residential areas of the building are only accessible with badges and security cameras are installed throughout the space.
Demand is so high for the units at The Arcade that there is a waiting list. Listen to Granoff describe what inspired him to convert the old building into a micro utopia of living and retail space. For a while, The Arcade saw its popularity decline and eventually closed in 2008.
Its downtown location saw a revival and when it was purchased in 2013, it received a new lease on life. While the Greek Revival-style architecture isn't necessarily very inviting, the natural light that pours into the space makes tenants feel warm and less cramped.
Other cities like Portland and New York also have micro lofts in their communities, but the sizes and rent amounts vary. Some are more expensive ($1,000 a month, for example) and some are less, like the Arcade. Paying $750 a month to live downtown seems almost unheard of.