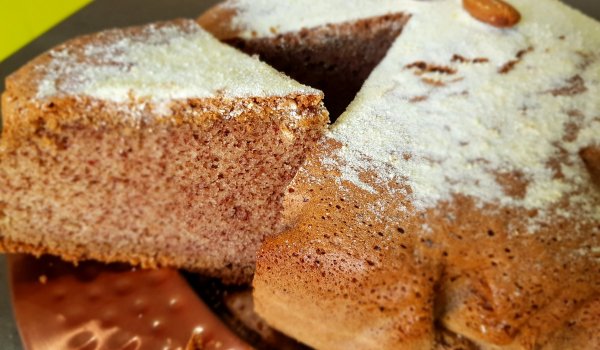 "Coffee with friends is much tastier when served with almond and rum sponge cake"
Preparation : 10 min.
Cooking : 40 min.
Тotal : 50 min.
Servings : 10
INGREDIENTS
almonds – 7.4 oz (210 g) raw
tea biscuits – 2.8 oz (80 g)
eggs – 5 pcs. XL or 6 pcs. M
sugar – 6.7 oz (190 g)
vanilla sugar – 0.35 oz (10 g)
rum – 1.8 oz (50 g)
baking powder – 1 tbsp (15 g)
oil – 2 2/3 tbsp (40 ml)
salt – 1 pinch
powdered sugar – for sprinkling
HOW TO COOK
Preheat the oven to 360°F (180°C) . Grind the almonds and biscuits in a blender or coffee grinder (the almonds can be peeled or unpeeled, but they must be raw).
Beat the eggs with the sugar, a pinch of salt and the vanilla sugar. While beating at all times, add the oil, rum and then the ground almonds and biscuits along with the baking powder.
Pour the resulting not very thick dough into a cake tin with a removable bottom – 80°F (24 cm) in diameter – greased and sprinkled with flour or covered with baking paper.
Put it in the preheated oven and bake it for 40 minutes.
Unclip the finished sponge cake carefully and leave it to cool on a wire rack. Sprinkle it with powdered sugar.
Enjoy!