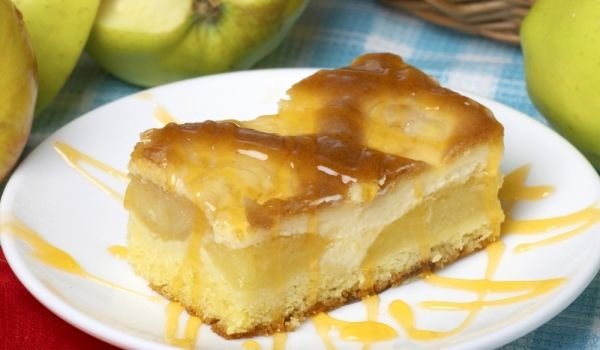 Preparation : 25 min.
Cooking : 30 min.
Тotal : 55 min.
"Making this Clafoutis with Apples is quite easy. The hard thing is eating it all in one breath."
INGREDIENTS
fruits – 5 – 6 firm peaches or apples
flour – 1/2 cup (125 g)
baking powder – 1/2 packet
sugar – 2/5 cup (100 g)
vanilla – 1 packet
eggs – 4
milk – 1 cup (250 ml)
HOW TO COOK
Beat the eggs with the sugar and vanilla and add the flour that's been sifted with the baking powder.
Stir well once again, then add the milk at the end.
Butter a medium-sized baking form or tray and cover the bottom tightly with peaches or apples that have been sliced medium thick.
Pour the mixture carefully on top, so that the fruits don't move.
Put the Clafoutis to bake in a preheated 410°F (210 °C) oven for about 30 min.
Sprinkle the ready cake with powdered sugar if desired.