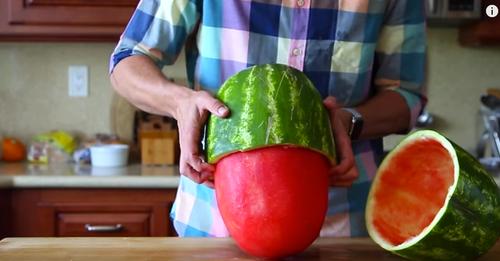 Heading to a barbecue on Memorial Day weekend and looking for something to bring with you? Then try this fun new way to serve watermelon! Mark Rober shows us how to "skin" the big fruit for a sweet, refreshing treat that will close out the summer in the best way possible. Look how quick – only 10 minutes! – and easy to make!
In a way, it's almost an edible magic trick, as it requires a little bit of trickery on your part. But, in the end, you'll get a magic trick that your guests will love and a watermelon that you can eat without the mess, without the annoying skin. So we think it's worth it to use a little trick.
Here's what you'll need and the steps to follow to pull off this trick.
Materials
2 watermelons
Knife
Dish scrubbing pads
Directions
First, start with two watermelons about the same shape and size.
With the first watermelon, prop it up on its butt and carefully start to skin it using a kitchen knife. You want to first shave off all the green, using long cuts, so that they're only a layer of white over the red flesh.
Then, using shorter cuts, remove all the white from the melon so that only the red flesh is left.
Use a wet dish scrubbing pad to sand down the entire melon so that it's rounded and completely smooth.
Take your second watermelon. Cut it in half (hamburger-wise) and empty it out however you like best. Completely hollow out the rind.
Put the skinned watermelon in the empty rind and make sure to chill before the party!
Your party guests are going to be SO impressed by the cool presentation of your watermelon, and they won't even guess how easy it was to pull off. This trick also works on any size of watermelon, and it even works with unevenly cut rinds – it's just kind of like a ship in a bottle in some cases. No matter what, it's going to like pretty cool. The biggest thing is, the two watermelons have to be roughly around the same shape and size.
Depending on the size of your watermelon, prep time for this trick is about 10 minutes, which is much shorter amount of time than it would take you to prepare a significantly less cool party dish.
Also, you can wrap up and bring the inside of the second watermelon for additional party snacks! Granted, it will look a lot less cool diced in a bowl than it will coming right out of the rind like magic, but people will still appreciate the delicious fruit.
How to eat the skinned watermelon? We love the look of the watermelon cut into discs – this looks a lot less messy than a traditional cut of watermelon and a lot cooler – and it also looks pretty hilarious to "go barbarian" on the fruit and take a couple handfuls! Although we're not sure if that technique is mom and dad approved.