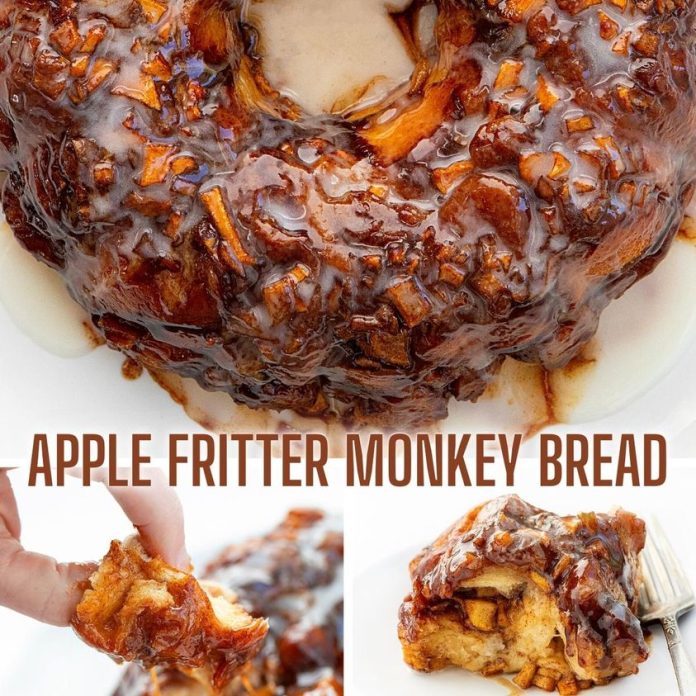 Monkey bread, also known as puzzle bread, monkey brains, sticky bread, Hungarian coffee cake, and a few other names I can't remember, is definitely a popular treat in my house, and it is so easy to make and eat! This Apple Donut Monkey Bread is made with store-bought cookies, so it's easy to assemble and take apart to enjoy! For another apple fritter treat, try my Apple Fritter Bread.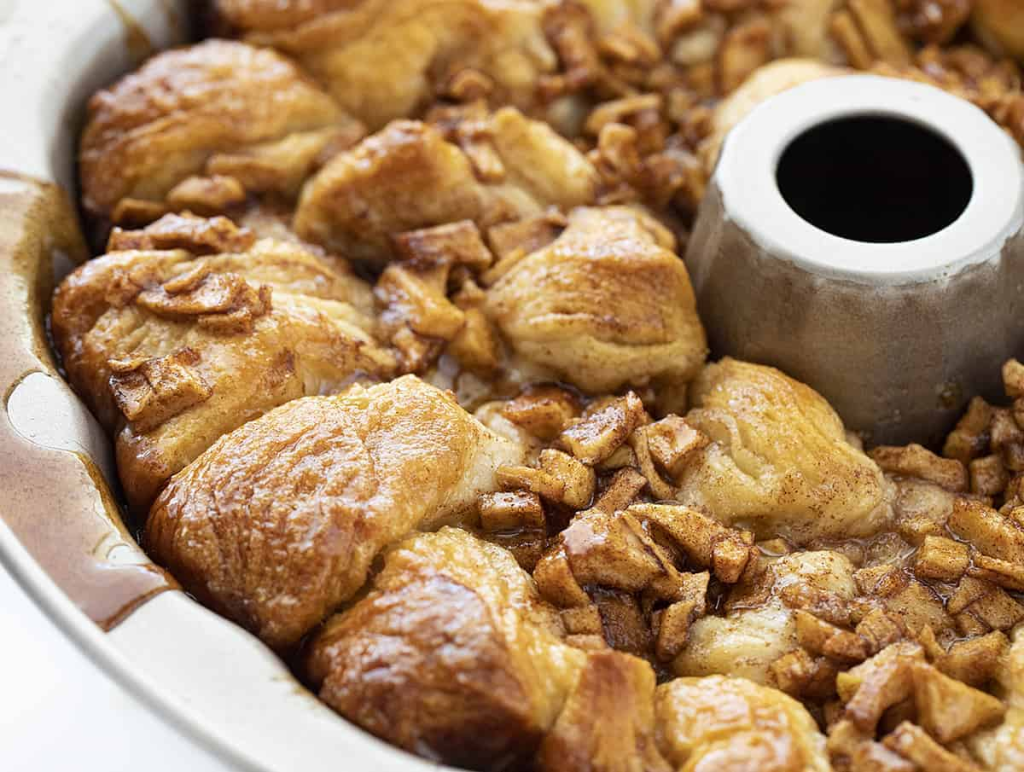 Ingredients
This recipe has three parts that come together in such a sweet and delicious way: the apple mixture, the bread mixture and the glaze.
The apples: I used Granny Smith apples for this recipe because they stay firm when cooked. They don't turn to mush and tend to hold their shape while baking. You can also use Honeycrisp, Braeburn, Fuji or Pink Lady apples.
Cookies: Look for the flaky variety of buttermilk cookies. You can also use Rhodes Rolls (like in my Orange Monkey Bread recipe).
Icing: The icing is a simple glaze made with confectioners' sugar and milk.
Can I use a different pan?
Generally, monkey bread is made in a bundt pan. But you can definitely use another type of pan to get the same delicious apple donut monkey bread. You can use a pan. But the cooking time may vary depending on the type of pan used. Be sure to check the middle of the loaf for doneness. A loaf pan or springform pan can also work.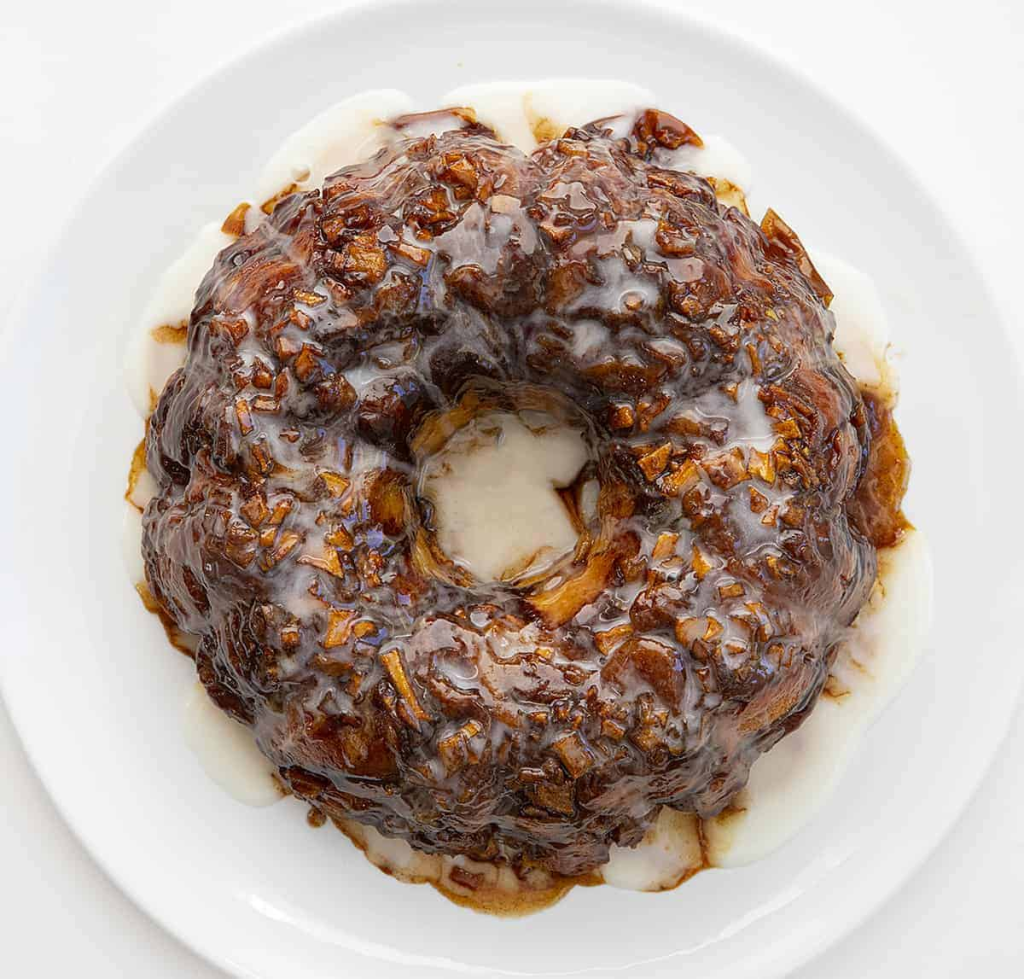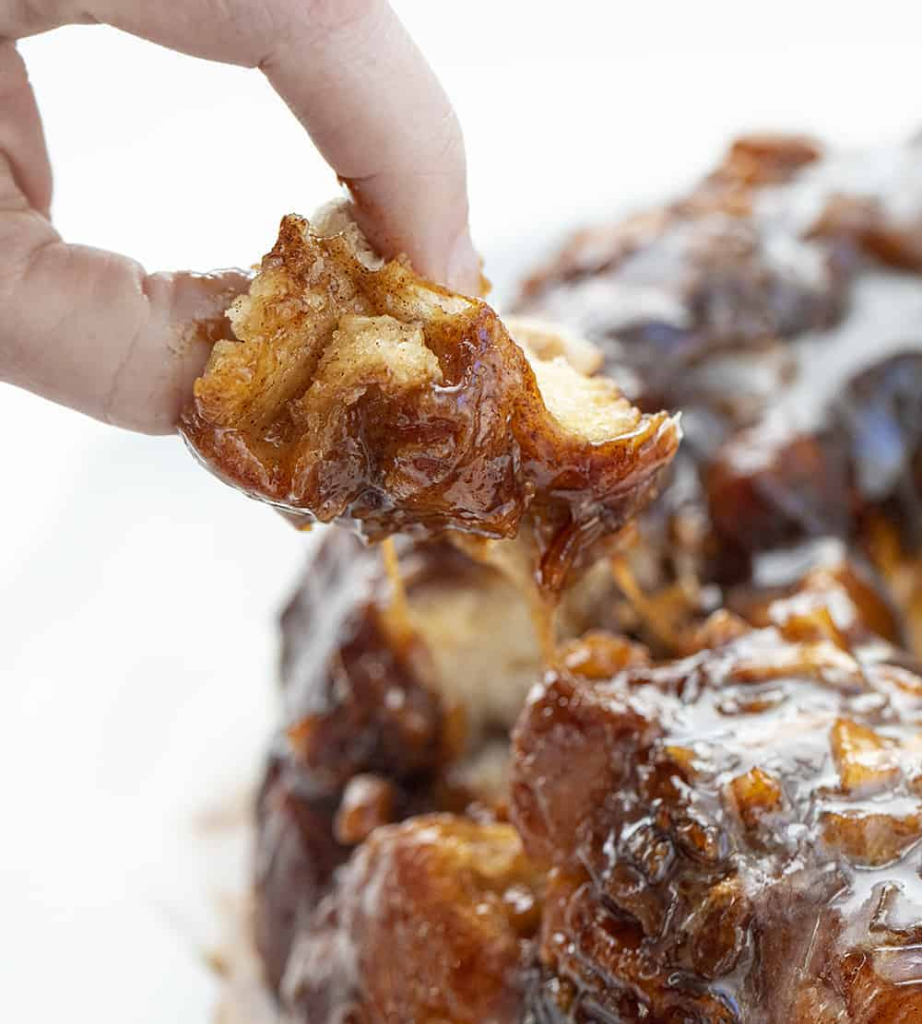 PREP TIME : 20 MINS
COOK TIME : 45 MINS
TOTAL TIME : 1 HR 5 MINS
Apple Fritter Monkey Bread is an ooey-gooey pull apart bread loaded with sweetened apples, all drizzled with a sweet glaze.
Ingredients
Apple Mixture
▢1 cup (200 g) light brown sugar, packed
▢2 tablespoons ground cinnamon
▢2 medium Granny Smith apples, peeled, cored, and diced into small pieces
Bread Mixture
▢1 cup (200 g) light brown sugar, packed
▢½ cup (1 stick / 113 g) unsalted butter, melted
▢2 cans (8-count each) refrigerated biscuits*, flaky
Glaze
▢1 cup (125 g) confectioners' sugar
▢2-3 tablespoons whole milk, room temperature
Instructions
Apple Mixture
Preheat the oven to 350°F. Spray a 10-inch bundt pan with nonstick cooking spray. Set aside.
In a medium bowl, whisk together the brown sugar and cinnamon.
Add in the chopped apples and toss gently to coat. Set the apples aside as you prepare the bread mixture.
Bread Mixture
In a large bowl, combine the brown sugar and melted butter.
Cut each of the biscuits into 6 pieces.
Add the biscuit pieces to the brown sugar and butter mixture and gently toss to coat.
Add ⅓ of the apple mixture to the prepared bundt pan. Top with a layer of half of the coated biscuit pieces. Add another ⅓ of the apple mixture, followed by the remaining half of biscuit pieces. Finally, top with the remaining apple mixture.
Bake for 45 minutes.
When the bread is done, remove it from the oven and let it cool for about 10 minutes while you prepare the glaze.
Glaze
In a small bowl, whisk together the confectioners' sugar and milk, adding just one tablespoon of milk at a time, until you reach desired consistency.
Invert the cooled bread pan onto a plate and drizzle it with the glaze.