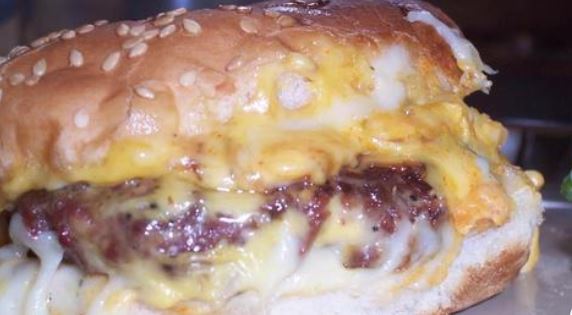 These burgers are simple and delicious. My guy's Aunt Kathy made these when I first met him. I recently asked for the recipe and added my twist (different seasoning & and a sauce.
Her version is made with mayo but you can replace the sauce with BBQ sauce or whatever you like. I hope you enjoy these as much as my family does.
SERVES : 6-8
PREP TIME : 10 Min
COOK TIME : 25 Min
METHOD : Griddle
Ingredients For Aunt Kathy's Oven Burgers
8wheat or sesame hamburger buns
2 lbground sirloin or lean ground beef
1 1/2 Tbspmontreal steak seasoning blend
1 lgonion, yellow
SAUCE
1/2 cmayonnaise
1 Tbspcatsup
1 Tbspyellow mustard
4 slicedill pickle, finely diced
1/4 tspgarlic powder
1/4 tsppaprika
1-2 pinchcayenne pepper (optional)
american & swiss cheese slices
OPTIONAL BURGER ADDITIONS
1/3 pkgbacon bits
1 Tbspgarlic, minced
2-3 slicepickled jalapeno
How To Make Aunt Kathy's Oven Burgers
1-Combine ground sirloin and montreal steak seasoning in large bowl, fold lightly. Do not overwork meat.

**optional additions 1 large clove garlic minced
3T bacon bits
2-Fry burgers on stovetop or grill until they are light pink in the middle not quite fully cooked. they will continue to cook in the oven.
3-Add sauce to top and bottom of burger buns, add a slice of american cheese on one side of bun and a slice of swiss cheese on the other side then place cooked sirloin burger on bun and top with a slice of onion & jalepeno (optional).
4-Wrap each burger in foil and bake in oven at 350 degrees for 12-15 minutes. Just to melt cheese & cook onion slightly.

I serve these with a cold potato salad or pasta salad and veggies or chips.