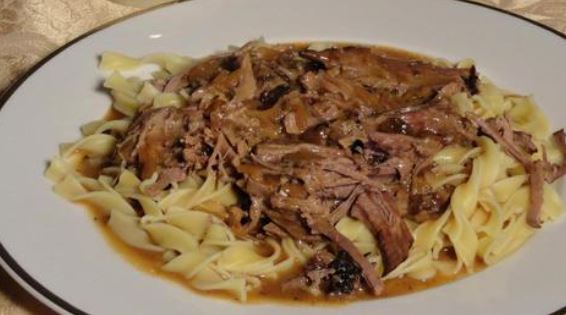 This always makes a tender roast and the gravy is sooo good. I usually use a chuck roast or sirloin tip, whatever is on sale.
This is really easy to prepare, and so delicious. A flavorful way to slow cook a chuck roast. When done, it's so tender it falls apart and melts in your mouth. The gravy is thick, creamy, and full of flavor (just try not to lick the bowl). Onion soup adds a punch of flavor. Serve with noodles or potatoes for the perfect comfort food dinner.
SERVES : 6-7
PREP TIME : 15 Min
COOK TIME : 8 Hr
METHOD : Slow Cooker Crock Po
Ingredients For Crock Pot Roast With Gravy
12-3 lb. roast of choice (like chuck or sirloin)
1 TbspKitchen Bouquet*
3/4 cbeef broth
1 cancream of mushroom soup, 10.5 oz.
1 pkgonion soup mix
1 TbspWorcestershire sauce
1 Tbspred wine vinegar
1/2 tspgarlic powder
1/2 tspdried thyme
1/4 tspblack pepper
2 Tbspbutter
2 Tbspall-purpose flour
How To Make Crock Pot Roast With Gravy
1-In a medium bowl, combine broth, mushroom soup, onion soup mix, Worcestershire, red wine vinegar, garlic, thyme, and pepper. Stir to mix well and set aside.
2-Rub Kitchen Bouquet over the roast, coating all sides. Heat a little oil in a large skillet over medium-high heat. Brown both sides of the roast (you'll know it's ready to flip when the meat no longer sticks). Transfer to the Crock Pot.
3-Reduce heat to medium and add butter to skillet. When melted add flour. Cook for a minute, stirring with a whisk.
4-Add gravy from bowl to skillet. Using a whisk, loosen up brown bits from the bottom of the skillet.
5-Continue to cook until thickened.
6-Pour gravy over roast. Cover and cook on LOW for 7-8 hours, or until roast is fall-apart tender.
7-Serve over buttered egg noodles. Enjoy!



*Kitchen Bouquet is a browning/seasoning sauce that helps to add color and a little flavor to meats and gravy. You can usually find it in the grocery with the Worcestershire sauce.