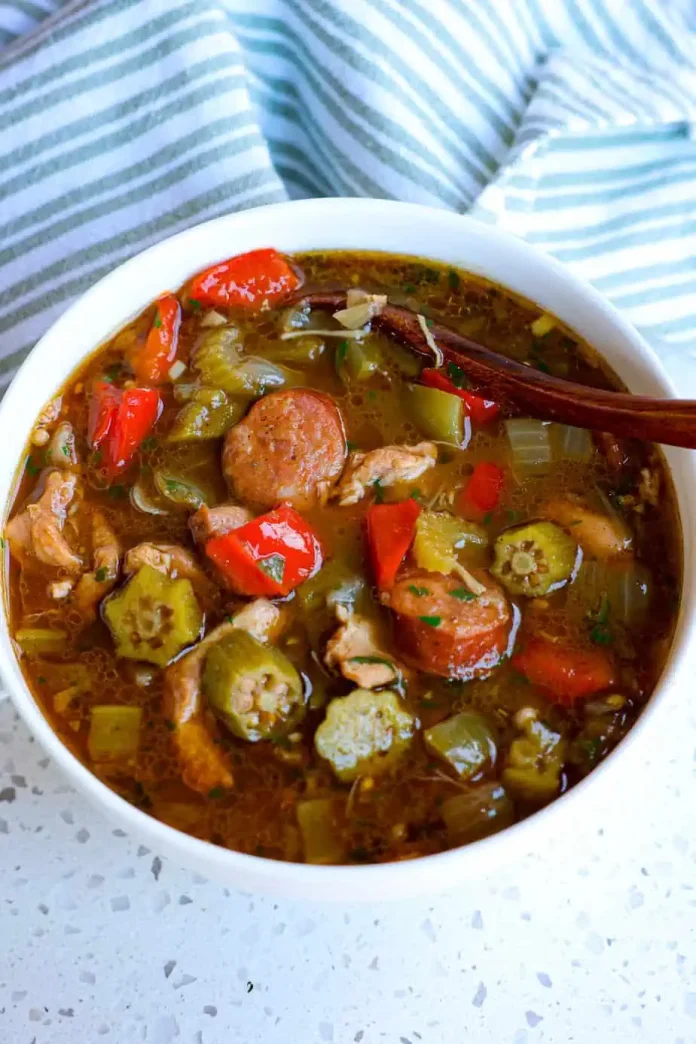 Embrace the soulful essence of the vibrant city of New Orleans with our exceptional recipe for "Authentic New Orleans-Style Dark Gumbo." This is a culinary journey that celebrates the rich flavors and traditions of the Deep South. Our gumbo is a fusion of tender chicken, andouille sausage, and a medley of aromatic vegetables, all enveloped in a dark, flavorsome roux. Let's embark on this enchanting voyage and savor the true taste of Cajun cuisine.
Ingredients:
1 tablespoon vegetable oil
1 ½ lbs. boneless, skinless chicken thighs, trimmed and cut into bite-sized pieces
12 ounces andouille sausage
½ cup unsalted butter
½ cup all-purpose flour
1 medium onion, finely chopped
2 ribs celery, finely chopped
1 green bell pepper, finely chopped
1 red bell pepper, finely chopped
3 cloves garlic, minced
4 cups low-sodium chicken broth
1 ½ cups fresh okra
1 ½ teaspoons Cajun seasoning (adjust to taste)
½ teaspoon dried thyme
¼ teaspoon black pepper
2 bay leaves
¼ cup chopped fresh parsley
1 tablespoon file powder
Cooked rice (for serving)
Instructions:
Begin your culinary adventure by heating the vegetable oil in a generously-sized Dutch Oven or a heavy pot over medium heat. Add the chicken and andouille sausage, allowing them to cook until the chicken is tender and both meats attain a delightful light brown hue. Use a slotted spoon to carefully transfer the meats to a bowl, covering it and setting it aside. Remove any excess fat from the bottom of the pot.
In the same pot, gently melt 1/2 cup of butter over medium-low heat. Gradually whisk in 1/2 cup of flour, ensuring that the mixture remains smooth. Keep whisking consistently until the flour undergoes a remarkable transformation, turning a deep, rich brown. This process may take up to 30 minutes and requires continuous stirring to prevent any burning.
Incorporate the finely chopped onions, celery, and bell peppers into the pot. Sauté them for about 3 minutes, maintaining a vigilant stir. Add the minced garlic, continuing to cook for an additional 2 minutes.
Now, introduce the chicken broth, fresh okra, Cajun Seasoning, thyme, black pepper, and bay leaves into the pot. Allow the mixture to come to a gentle boil before reducing the heat to a soothing simmer. Let it simmer for 30 minutes, allowing the flavors to meld.
Reunite the cooked chicken and andouille sausage with the simmering concoction, letting them meld together for an additional 30 minutes. Just before serving, remove the pot from the heat and gently stir in the vibrant parsley and the aromatic file powder.
It's time to savor the fruits of your labor. Serve this authentic New Orleans-Style Dark Gumbo generously over a bed of steamed rice, allowing the robust flavors to envelop your senses and transport you to the heart of Louisiana with every delightful bite.
Conclusion:
In the grand finale of this culinary journey through the heart of Cajun cuisine, our "Authentic New Orleans-Style Dark Gumbo" stands as a testament to the deep-rooted flavors of the South. With tender chicken, zesty andouille sausage, and a harmonious blend of vegetables and spices, this dish encapsulates the essence of New Orleans in each spoonful.
As you savor the rich, dark roux and the aromatic symphony of Cajun seasonings, you'll experience the soul-satisfying magic that only a true gumbo can offer. Whether you're celebrating a special occasion or simply indulging in the comforts of home, this authentic New Orleans-Style Dark Gumbo is a feast that unites tradition and flavor in a single, unforgettable bowl.
So, gather your loved ones, embrace the spirit of Louisiana, and let "Authentic New Orleans-Style Dark Gumbo" be the star of your dinner table, making memories as unforgettable as the flavors themselves. It's a taste of the Bayou that will leave you craving another culinary adventure in the world of Cajun cuisine.
SOURCE OF THE PICTURE : small town woman