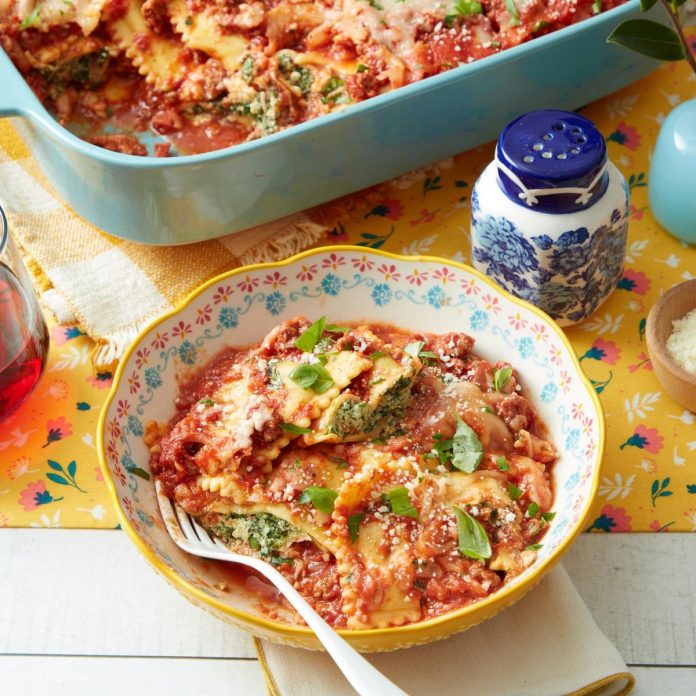 This Baked Ravioli Casserole is an easy way to make a flavor that every lasagna lover knows and loves in one weekend night! Instead of simmering the sauce, cooking the noodles and layering them over and over again, this casserole recipe utilizes a variety of clever shortcuts. What's the best hack of them all? Frozen ravioli! Stirred in a meat sauce and topped with shredded mozzarella, they are baked to perfection. Along with chicken spaghetti, fettuccine and lasagna, this dish is the star of any Italian dinner.
What type of ground beef is good for meat sauce?
What is the best ground beef for bolognese sauce? Do not use beef with less than 7% fat in this recipe, as this may result in a dry texture. High-fat ground beef (20% fat) can also be omitted, as most of the fat is drained off before making the sauce. Ground meat with a fat content of 10% to 15% is sufficient.
Can I use spaghetti sauce instead of canned tomatoes?
Using canned tomatoes may seem like an extra step, but it is intentional. Canned tomato sauce can be too sweet, too tart or too tangy. As the sauce simmers, it becomes just as wonderful as ravioli.
Directions.
1 – Heat olive oil in a large saucepan over medium heat. Add garlic and onion and cook, stirring frequently, until onions are softened, about 6 minutes. Add ground beef and cook, stirring to loosen, until beef is browned, 6 to 8 minutes. Drain off fat, reserving some for seasoning and moisture.
2 – Add crushed tomatoes, Italian seasoning, red pepper flakes, salt and pepper. Bring to a boil over medium heat. Reduce heat to low and simmer for 10-15 minutes, stirring occasionally. Remove from heat.
3 – Preheat oven to 375°. Bring a large pot of water to a boil and season with salt. Boil ravioli according to package directions; drain. Place cooked ravioli and 2 cups meat sauce in a large bowl.
4 – Spread 1 cup sauce in the bottom of a 49 x 13-inch casserole dish and lightly grease. Arrange half of the ravioli in the dish, overlapping slightly. Spoon half of the remaining meat sauce over the ravioli. Top with 2 – cups mozzarella cheese and 1/4 cup Parmesan cheese. Sprinkle with basil and parsley.
5 – Place the other half of the ravioli on top of the cheese, overlapping slightly. Top with remaining meat sauce, 1 cup mozzarella cheese and 1/4 cup Parmesan cheese.
6 – Bake in preheated oven for 20-25 minutes or until bubbly. Let stand 10 minutes before serving. Serve sprinkled with additional chopped fresh basil or parsley, if desired.
CLICK NEXT PAGE BELOW TO CONTINUE READING …