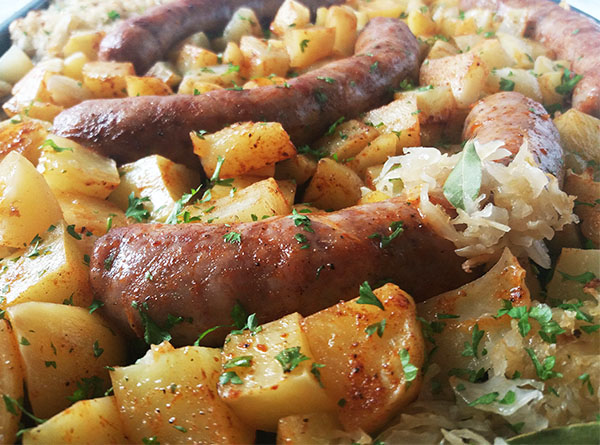 Something about these flavors reminds me of the days when, on the family farm, I would return with my grandfather from a nature hike, where I would get to know the wildflowers, trees and small creatures we had met, and then share this abundant and delicious meal with my family. Today, as a home cook, I have learned that it is a very easy dinner recipe to prepare and is practically devoured by anyone who tries it. Even the kids seem to especially like the taste of sauerkraut… or they pick it up and eat the potatoes and the sausages.
Ingredients : 
Makes: 8 Servings
2 Tablespoons butter
1 large cooking onion (chopped)
2 (796ml) jars sauerkraut (we used Kuhne brand which is a German product) you can use your favorite *each can is 796mLs
* NOTE – one jar would be enough, but we love sauerkraut and so used 2 jars.
8-10 medium to large russet potatoes (washed, peeled and cut into 2-3 inch cubes)
6-8 precooked turkey sausages (we used a brand from a local butcher, you can choose your favorite sausage
sour cream (optional but tastes great served with the meal)
HOW TO MAKE IT :  
CLICK NEXT PAGE BELOW TO CONTINUE READING …