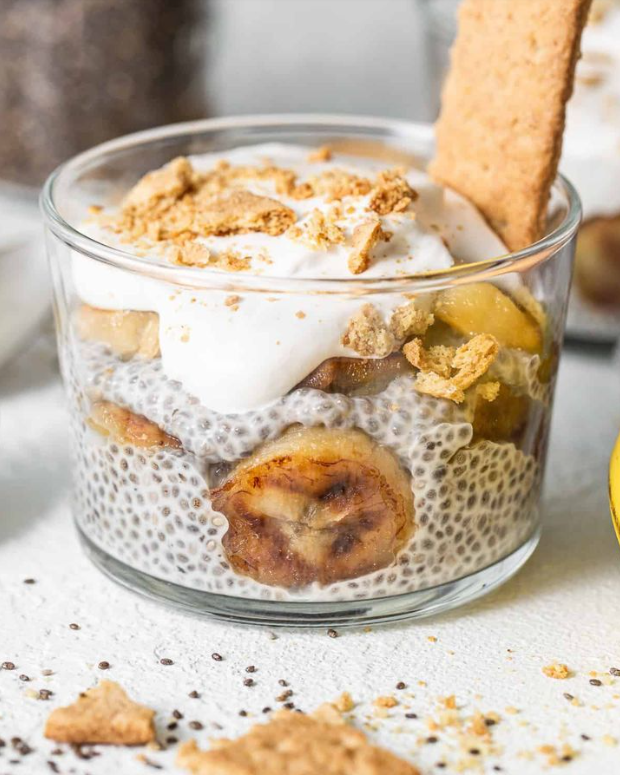 This banana and chia seed cream pudding is creamy, sweet and full of delicious banana flavors.
Prep time : 6hours hours 30minutes minutes
Cook time : 18minutes minutes
Total time : 6hours hours 48minutes minutes
INGREDIENTS
¼ cup chia seeds
1 cup unsweetened plain oat milk
2 teaspoons vanilla extract
4 tablespoons honey separated
Pinch of salt
2 tablespoons unsalted butter
2 large bananas sliced into ¼-inch slices
4 graham cracker sheets crumbled
Optional
½ cup whipped cream or dairy-free whipped cream
INSTRUCTIONS
Add chia seeds, oat milk, vanilla, and 3 tablespoons of honey into a medium bowl and mix until well combined. Be sure the honey is not sticking to the bottom of the bowl and that it completely dissolves. Add a pinch of salt to the bowl and stir again. Cover the bowl and refrigerate overnight or for at least 6 hours.
When the chia seed pudding has thickened, stir, and if the pudding is too thick, add a few more tablespoons of oat milk to make the pudding creamy. Set aside.
Heat a large skillet over medium/high heat and add butter. When the butter has melted, add 1 tablespoon of honey to the skillet and whisk the two ingredients together. Place the banana slices into the honey butter. Let the bananas cook for 3-4 minutes on each side or until the bananas start to caramelize. Remove them from the pan.
Add about 2 tablespoons of chia seed pudding into the bottom of a jar or glass, and then add a layer of bananas (3-4 slices). Add another 2 tablespoons of pudding on top of the bananas, and then top the pudding with one more layer of bananas. Top with whipped cream and graham cracker crumbs. Repeat until you have 4 small cups of banana cream pie chia seed pudding.
TIPS & NOTES
The whipped cream is optional in this recipe.
We also tested this recipe with almond milk and whole milk. Both work great, but you get a creamier pudding using oat or whole milk.
NUTRITION FACTS
Calories: 323kcal Carbohydrates: 48g Protein: 5g Fat: 13g Fiber: 6g Sugar: 29g