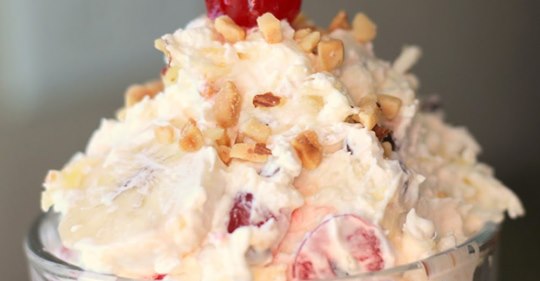 This Banana Split Fluff Salad is an easy ambrosia salad that is loaded with all your favorite banana split toppings. Stir everything into one bowl, and it is ready to go.
Now this is how I like to eat my salad. Anything loaded with fruit, nuts, marshmallows, and chocolate has to be a good thing.  Yes, you read that right.  This ambrosia salad recipe has chocolate in it. Oh, yeah!
By the way, if you love chocolate, you definitely need to check out this Rocky Road Fluff Salad!  It's a dream dessert for chocolate lovers!
Now I know what you are thinking.  There is no way a bowl of creamy goodness should be called a salad because it does not have the normal and typical salad ingredients.
Well, technically this is more like a dessert because it has pudding and marshmallows in it.  But hey, I like to call it fruit salad because then I can eat a second helping without feeling too much guilt.
Notes:
*Stir in the bananas right before serving. Or dip the banana slices in lemon juice to keep them from browning too quickly.
How to make it:
Click Next Button Bellow for Full Recipe…