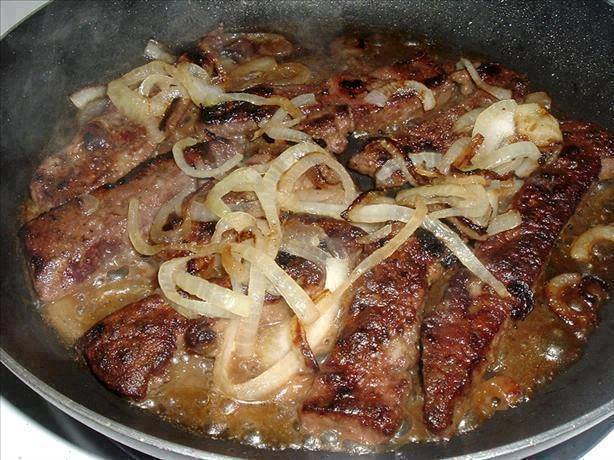 Reviews about the recipe:
"Tonight's liver & onions entree was the best I've ever eaten in my lifetime. The liver was very tender and mild flavored. Perhaps contributing to the tenderness was the fact I did soak the liver in milk first for about four hours. Also, it seemed one teaspoon sugar was adequate because I used sweet Spanish onion, sliced rather than diced. Another thing I did was cut the liver slices into smaller pieces, added salt and onion powder to flour, and after dredging, browned quickly in batches. This recipe as I made tonight is company perfect–absolutely delicious for liver lovers and a special taste treat for those who say they don't care for liver."
"This is the quintessential beginner's liver and onions. Easy to make and tasty. I gave it three stars just because of a couple of tweaks it really needs. First, unless you really enjoy the very strong and sometimes bitter liver flavor that often gives it a bad name, which I actually do but most do not, you must soak the liver in milk first. Just put the sliced liver into a shallow dish and add just enough milk to completely cover it. Let if soak for about an hour and then take it out and pat it dry before moving on to the dredging step. The second tweak is simply to season the flour with salt and pepper…some garlic powder is really good too. That's it…other than those things this is the best recipe to cut your teeth on when cooking liver. Oh, I also prefer the onion sliced rather than diced but that's just a matter of preference. I have to give props to the cook for recommending the correct cooking time for the liver as so many recipes call for way too much time and overcooked liver is tough and not appealing at all. Kudos to Lola for the cooking lesson."
I don't know about you, but I love beef liver. My two favorite recipes for beef liver are barbecue and sauté with onions! Check this out.
You'll Need:
Click Next Button Below for the Full Recipe