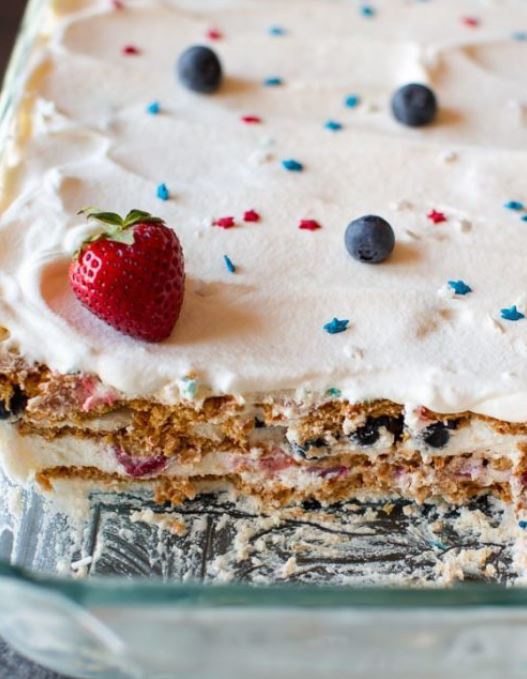 Prep Time: 10 minutes
 Cook Time: 0 minutes
 Total Time: 3 hours, 10 minutes 
Yield: serves 12
Description
Easy icebox cake, perfect for summer, feeds a crowd, no baking, and made with homemade whipped cream!
---
Ingredients
3 cups (720ml) heavy cream or heavy whipping cream
1/3 cup (40g) confectioners' sugar
2 teaspoons pure vanilla extract
1/2 teaspoon pure almond extract
20–21 full-sheet graham crackers
2 cups (380g) sliced strawberries
1 cup (100g) blueberries
optional: additional berries and colorful sprinkles
---
Instructions
Preliminary notes: There are 3 layers of graham crackers, 3 layers of whipped cream, and 2 layers of berries (plus any you use for topping). Each layer of graham crackers is about 7 graham crackers (you can break some up to fit). This recipe yields 6 cups of whipped cream and you will use 2 cups per layer.
Using a hand mixer or a stand mixer fitted with a whisk attachment, beat the heavy cream, confectioners' sugar, vanilla and almond extracts together on medium-high speed until soft peaks form, about 4 minutes. Spread a couple Tablespoons into a very, very thin layer on the bottom of a 9×13 pan. This will help the bottom layer of graham crackers stick. Layer graham crackers on top.
CLICK NEXT PAGE BELOW TO CONTINUE READING …