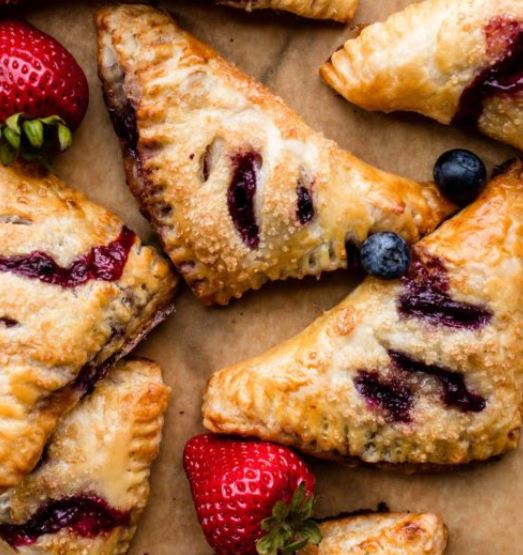 Prep Time: 3 hours, 30 minutes
 Cook Time: 25 minutes
 Total Time: 4 hours
 Yield: 9 turnovers
Description
These homemade berry turnovers use a shortcut version of traditional puff pastry dough that's often referred to as rough puff pastry. Each bite is mostly flaky dough with just a touch of berry filling. Make sure the butter is very cold before beginning the dough.
---
Ingredients
Berry Filling
1 teaspoon cornstarch
1 teaspoon warm water
1 cup (about 150g) mixed berries (I use 1/2 cup blueberries, 1/4 cup halved blackberries, 1/4 cup chopped strawberries)
1 and 1/2 Tablespoons (18g) granulated sugar
1 teaspoon lemon juice
Dough
1 and 1/3 cups (166g) all-purpose flour (spoon & leveled), plus more for generously flouring hands, surface, and dough
1 teaspoon granulated sugar
1/4 teaspoon salt
3/4 cup (1.5 sticks; 170g) unsalted butter, very cold and cubed
6–8 Tablespoons (90-120ml) ice cold water
Egg Wash + Topping
1 large egg*
2 Tablespoons (30ml) milk
optional: coarse sugar for topping
optional: vanilla icing
---
Instructions
Make the filling first so it has time to cool: Whisk the cornstarch and water together until all the cornstarch has dissolved. (I just use a fork to mix– very easy.) Place the berries, sugar, cornstarch mixture, and lemon juice into a small saucepan over medium heat. Using a wooden spoon or rubber spatula, stir the mixture as it cooks. Break up some of the berries as you stir. Bring it to a simmer and allow to simmer for 3 minutes, stirring constantly. Remove pan from the heat and cool completely. The mixture will thicken as it cools. Once cool, filling can be covered and refrigerated for up to 5 days before using. Makes 3/4 cup of filling.
CLICK NEXT PAGE BELOW TO CONTINUE READING …