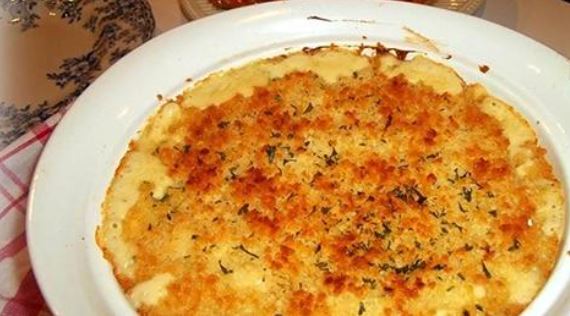 This is the best Macaroni & Cheese we've ever eaten…ones in the past that I've had, have been gritty, once the cheese starts cooling…not this one, it stays creamy, until your last bite…such a great comfort food…good luck trying not to go back for seconds…it's that good!
Enjoy!
SERVES : 4 – 6
PREP TIME : 20 Min
COOK TIME : 25 Min
METHOD : Bake
Ingredients For Best Darn Mac & Cheese ~ So Good!
8 ozcooked macaroni, al dente
3 Tbspbutter
3/4 – 1 cpanko bread crumbs
4 Tbspbutter
4 Tbspflour
2 cmilk
1/2 tspeach, kosher salt & black pepper
1 Tbsp+ 1 tsp dijon mustard
2 cfresh shredded ~ cabot extra sharp white cheddar cheese
3/4 cshredded, parmesan cheese
driedparsley
redpepper flakes, optional ( a pinch )
How To Make Best Darn Mac & Cheese ~ So Good!
1– Cook macaroni, al dente – drain & rinse. Set aside.

Preheat oven to 350 degree F. Spray a 2 quart casserole with non stick cooking spray or grease.

In a small skillet, over medium heat – melt butter. Add pankos and stir until coated evenly.
2– In a medium saucepan, melt 4 tablespoons butter over medium heat, making sure not to burn. Whisk in the flour and continue cooking for 1 minute.
3– Whisk in the milk, stirring continually, until thickened.
4– Remove from heat and add the mustard, salt, pepper, cheeses, red pepper flakes, and stir until the cheese is melted.
5– Pour in the well drained macaroni and stir to combine.
6– Pour into prepared casserole dish and sprinkle with prepared Panko's. Sprinkle with parsley.
7– Place in oven and bake for 20 – 25 minutes or until good and bubbly and panko's are golden.

Serve immediately!

This is one delicious Mac & cheese, the cheese doesn't get gritty, stays nice and creamy.