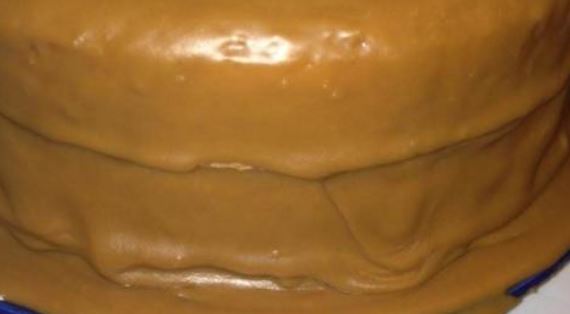 I always had trouble making caramel icing before I got this recipe from a friend's mother. Putting the cold butter in last made all the difference for me. It tastes so good too!
SERVES : 12 or more
PREP TIME : 15 Min
COOK TIME : 30 Min
METHOD : Stove Top
How To Make Old Timey Caramel Icing
1Combine 3 cups sugar and milk in a heavy sauce pan on medium heat. Stir together for a few minutes. Allow to continue to heat.
2While milk and sugar are heating, place a small black iron skillet on med. to med. high heat. Add the 5 tablespoons on sugar. Stir in the skillet until the sugar liquifies and then turns golden brown. It will be bubbling hot.
3Now the milk and sugar should be very hot. Carefully pour in the browned sugar from the skillet. Whisk together and cook for about 15 minutes or until the mixture reached the very soft ball stage. (test by dropping a little off a spoon into a small glass of cool water. When a small soft ball forms, it's ready.)
4Remove from heat and using an electric mixer, mix in 1 and 1/2 sticks cold butter…never margarine!
Continue to beat until cooled to spreading consistency.
5If too thick, you can thin by beating in milk a tablespoon at a time.
Make sure your cake in completely cooled or this heavy icing may cause the top to split. It'll still taste super though!